You are welcome to my InteleTravel review! Can you still make money with InteleTravel? Or, is InteleTravel a Scam?
I am sure you love to travel, the planning process, and you like assisting others in having an enjoyable experience, then you will be a great travel agent, or having an agency of your own will be best for you.
Or would you like to travel the world on a cheap budget while making money at the same time?
You must have heard a similar line from sales agents or even family and friends promoting InteleTravel.
It's a good thing you are here to find out how valid that claim is; I will be doing a detailed and complete Inteletravel review.
Please know that InteleTravel is not a Scam. But I am sorry to disappoint you, InteleTravel will not make you money!
Continue reading to see many reasons why it is not for you if you want to make a full-time income online and working from home.
Must Read Articles:
InteleTravel at a Glance
---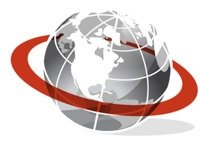 Product Name: InteleTravel Agent.
Owner: James Ferrara
Product Type: Travel Agencies – Network Marketing/MLM
Price: $179.99 one-time, $39.95 monthly and $19.95 monthly.
Rating: 20%
Recommended: No.
Best for: Network Marketers, Sales of Travel Products/Recruiting People.
Summary of InteleTravel Review
---
InteleTravel is a Multi-Level Marketing travel agency that has been in business for over 25 years and has distinguished itself amongst its competitors.
Be rest assure that it is a legitimate company with many recognitions and awards.
But, if making money is your thing and the reason for checking this out; I am sorry, InteleTravel will not help you make money.
Travel is a huge business today. Yearly people travel to various locations around the world, and such vacation expense gets costly.
But discounted vacation packages can make such trips more avoidable to many people.
InteleTravel claimed they could make your dream come to past by providing tools and resources that will help you become work from a home travel agent.
Based on what you will read in this article, the program is overhyped, and it is not as good as they promised you.
It is not a wonderful making money from the home opportunity they claimed it is.

Though, InteleTravel focuses on providing a flexible supplement income, helping its users create a work-life balance; but the average yearly earnings for InteleTravel members "the travel agents" is just $282.19.
You will see the proof and many more reasons why this program is NO for me!
What is InteleTravel?
---
The owner of InteleTravel is James Ferrara. The company is an MLM travel agency founded in 1992.
This has distinguished itself amongst competitors, such as World Ventures and Evolution Travel, in the travel industry.
InteleTravel does the same duty every other online travel websites and agencies provide including a discount on various aspects of travel such as airfare and hotel.
If traveling is something you are passionate about, then InteleTravel sounds like an ideal opportunity. However, there is more to InteleTravel than selling travel packages.
The founder of InteleTravel is a part of the management team of PlanNet Marketing the company that offers business opportunities from InteleTravel.
So while InteleTravel focuses on being a Travel services provider, PlanNet Marketing provides business opportunities for its users.
Also, InteleTravel does not have any particular product they offer. Instead, InteleTravel partners with different travel suppliers and this enables them to provide discounted travel packages to its customers.
Their partners range from cruise lines to hotels, car rental services, and travel insurance.
Companies such as Norwegian Cruise Line, Delta Airlines, Disney Vacations, Hotels & Resorts, Hertz, Travel Insured, and a lot of other companies are partners with InteleTravel.
Since InteleTravel is an MLM travel agency, you earn commissions for selling travel packages or tickets.
This might seem easy, but you need to have a basic idea of how it runs to be successful, the desire to travel the world is not enough to help make you make money with InteleTravel.
How Much Does It Cost to Join InteleTravel
---
InteleTravel has a partnership arrangement with PlanNet Marketing, then you must join that company where James R.Ferrara (President, InteleTravel) is a top member of the management team.
The screenshot below is a profile of Mr. James R.Ferrara on the PlanNet Marketing website.
PlanNet Marketing also has a sub-website called PlanNetNow (www.plannetnow). The site is currently not secured and without https but the site is still exiting online.
Also, InteleTravel has to stop the registration of new independent InteleTravel Agents. See the screenshot below and the links:
Before registration is closed to new members, you must pay a one-time enrollment fee of $179.99 and a monthly fee of $39.95 to become a travel agent with this travel website.
I can guess that you will be hesitant to spend this high upfront fee.
There is some other home business that will allow you to join without an upfront fee. It is a way to let the newbies see what they are going for.
If at the end of the day you like what you are seen, you can now make the payment for a paid full membership fee.
For instance, Wealthy Affiliate which is my #1 recommended way to earn a full-time income online will allow you to sign up for free to start the free training.
As soon as you made this payment, you will have access to complete training kits, webinars, live events, and needed education that will help you excel in selling travel to your friends, family, and relatives so that you will start earning a commission.
The breakdown of the payment is shown below:
You will also get the following resource that will help you excel in your work at home travel business.
Exclusive travel offers.
A free personalized travel agent website (where you can earn commissions on bookings) and social media assets.
Business card and letterhead that is personalized
Print advertising materials and sales tools
Insider travel knowledge.
The company gives you full customer support.
Discounted travel rates to help you win customers.
Email marketing program.
What about the $19.95 extra monthly fee? We'll get to that.
Who is InteleTravel For?
---
The flexibility offered by the company makes it an attractive venture.
On InteleTravel website they claimed that you can be a travel agent if you want to achieve the following:
***Turn a Passion into Income***
They argue that you can quickly turn your passion for traveling the world to making huge income and rewards.
As InteleTravel travel agent they claim you can sell travel to yourself and just anyone that comes your way.
You can sell the next travels if you become an independent InteleTravel travel agent:
Book cruises
Vacations
Hotels
All-inclusive resorts
Tours
Airline tickets, and
Car rentals
***You Want Flexibility and Freedom***
InteleTravel also claimed that their agents would make money on their terms and you will be your boss (reporting to yourself).
You can dedicate any amount of time you want it all depends on your desire and determination to succeed. They promise to give you enough freedom to operate and work at their own pace.
InteleTravel promised to nurture and help you win. You don't need to be an expert salesperson to be successful with this company.
They won't mind if you start selling travel to your family and friends first.
They promised that you will always earn a commission of every one of your sales and referrals.
***If You Want to Work for Yourself***
InteleTravel will make your work from home or anywhere of your choice as their agent. They promise that you won't have to work for yourself.
That is, they claim you can reach out to InteleTravel and other members for support, advice, and ideas on how to be successful.
They promised you a great relationship with top travel brands that will make travel business profitable to you.
Warning. . .
However, while InteleTravel makes the above promises and advocates itself as open to everyone who loves to travel and earn at the same time, the agent business is probably most suited for existing and established, travel agents and tour guides.
This is because these people already have a pool of loyal customers who patronize them. As a newbie, you will be fishing with a line while others are casting their nets into the sea.
That is the real truth, and the money you will make maybe a peanut at the end. Read various red flags of InteleTravel below this article.
InteleTravel Compensation Plan And Commission Structure
---
This is how to make money with the InteleTravel compensation plan.
I am sure it will be a great idea to receive commissions on your travel together with your family and friends, right? And, the commission is claimed to be self-motivated.
You will make money with InteleTravel by selling travel, that is the summary of how to make money with this company!
Many top industry travel suppliers of InteleTravel will pay between 14% – 28% commission on every one of your sales.
As a newbie to the company, you will start off getting paid 70% of that commission.
See the illustration below:
Also Another Example: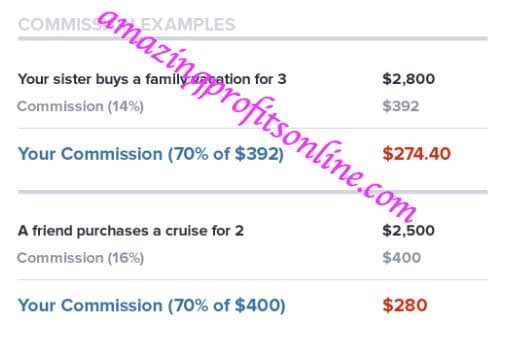 There is some exception though. There are some Travel insurance, Bonus offers, and Certain airlines will pay a commission of between 18% to 20% or more.
On the company sales page, there is this claim that you can aim for a higher commission called "Bonus Commission Amounts" by meeting specific targeted sales goals.
You have to know that these various suppliers are paying your commission from their share. This is why it is critical for you to always take advantage of every travel sales that come your way.
This means that you cannot always expect customers to look for you. You have to go out and get them yourself.
InteleTravel partners with various travel suppliers to offer travel packages and discounts to its customers.
As an InteleTravel agent, you earn commissions based on the amount and type of travel packages you sell to people.
In addition to your commission on sales and bookings, you also earn income by recruiting more members to become a travel agent of InteleTravel.
By recruiting, you earn a certain percentage on every product or booking sold by your downlines (people who registered through you).
You can check out the InteleTravel Training Manual (Training manual PDF format) for other information you may be required
It looks like a pretty easy way to earn cash right? In reality, it's not. InteleTravel agents make on average a pitiful $282.19 annually (This is one of my many reasons why I am not recommending InteleTravel to you)
How Much do InteleTravel Agents Make?
---
The Average InteleTravel Travel Agent earns roughly above $41,000 annually. This is below the national average salary in the US by 9% approximately.
This information is, however, extracted online.
But from my investigation of the actual take-home of InteleTravel Travel Agent as shown in the company income disclosure statement of 2018 (Extracted from PlanNet Marketing, the InteleTravel partner company)
The high percentage of members earned an average of $165.92, while the executives at the top of the pyramid earn an average of $3,833.68 in 2018.
PlanNet Marketing Inc's Income Disclosure Statement for 2018
Source: Income Disclosure Statement for 2018
The breakdown shows the worst situation of the majority of InteleTravel agents.
The situation of most members of InteleTravel in 2018 is worst compared to the 2017 Income Statement.

While the members at the top of the pyramid earned more in 2018 compared to the income statement of 2017 as shown in the PlanNet Marketing Inc's Income Disclosure Statement for 2018.
When InteleTravel Pay Its Independent Travel Agents
---
When to get a pay as an Independent Travel Agents is a common question by many travel agents of InteleTravel.
A commission is only earned when InteleTravel receives payment from their Travel Partners; this happens between 30 to 60 days after the completion of travel.
Your commission will only be paid 15 working days after the end of the month of which commission was funded by the Travel Partners, i.e. If InteleTravel gets payment from its Travel Partners in December, you will receive payment in January.
Your commission must be above the minimum payment threshold of $25 before you can get paid. Otherwise, your commission must accrue to that amount before payment is affected.
InteleTravel Payment Methods
---
Another frequent question is how do I get paid? InteleTravel pays its's agents commission using Hyperwallet.
Expect to be charged with a minimal fee if your commission is to be sent alternatively via direct deposits, Prepaid Credit Card, or can be dispatch via paper check to your destinations.
InteleTravel Customer Service
---
InteleTravel is a service providing company and has to deal with customers and clients who are continually booking for trips or other services.
You can contact the Inteletravel customer service as detailed below:
Contact Information
Principal: Mr. James Ferrara, President
Customer Contact: Ms. Crystal Frederick (Customer Service)
Other Contacts: Ms. Dayna Smith (Director of Operation)
Fax Numbers: (561) 272-0813
Phone Numbers: 1-800-873-5353
Email Address: customerservice@inteletravel.com
Physical Location: Florida (777 East Atlantic Ave, Suite 300 Delray Beach) and Mexico (Secretaria De Hacienda Y Credito Publico).
However, most often customers have to direct their complaints to their InteleTravel Agent who in turn gets back to the company. This could be a long, tedious process though.
We have complained online about the lack of proper support rendered by InteleTravel. See the screenshot below:
I have reviewed over 400 such online programs. They always have the same features. Check out some few ones here:
What I Like About InteleTrust Guarantee
---
***30 Days Money Back Guarantee****
InteleTravel promised to return and refund your money if in any way you are dissatisfied with this travel agent program within your first 30 days.
They claimed that you could cancel "in writing." They promised to refund the enrollment fee you paid money 100%.
However, all your earnings from travel commission or any other money earned from InteleTravel within that 30 days will be deducted from the refunds amount.
***InteleTravel Profit Guarantee***
They claimed that the profitability of the Home-Based Agent Program is guaranteed by this "InteleTrust Guarantee" such that if you do not make or save more money in your first year as a travel agent of InteleTravel.
The company makes claims to refund you the difference if only you can write such a request in your first 30 days after your 1st anniversary of enrolling with InteleTravel.
That is the company will calculate all your earnings in commission, bonuses; various discounts accrue to you as an agent within your first year and all the privileges you have enjoyed with your companion.
If the summation of the above is less than your enrollment fee plus your monthly access fee paid to InteleTravel. The company will refund the difference.
***Reduce Personal Travel Pricing Is Guarantee***
If you can confirm any of your bookings and travel bought through InteleTravel that is comparable in pricing (lower than InteleTravel price rate) within a specified period.
The company will match or beat that pricing for you as an agent personally.
If InteleTravel fails to beat or match the price; InteleTravel will avail an issue to you InteleBucks credit that worth 110% of the difference for your use in the future.
Other Good Stuff About InteleTravel
---
Because being an InteleTravel agent is a home-based job, your typical day of work at home with InteleTravel consists of online branding, advertising, marketing, and sales.
Mostly you are your boss. You need to have access to the internet with any of our devices; you will be earning commissions on your bookings.
Asides being a company that is over 25 years in existence, InteleTravel is recognized by the travel regulatory authorities such as the Airlines Reporting Corporation (ARC),vacation.com, and the Cruise Lines International Association (CLIA) as well as being Norton secured.
InteleTravel has a Better Business Bureau (BBB) A+ rating and has been awarded the BBB Online Reliability Seal. That should be a pointer that the distributor can make money with InteleTravel.
There are added benefits for InteleTravel agents.
When you book as an independent travel agent, the benefits include getting private cruise cabins, exclusive hotel rates as well as deals on airfare, all at the same price or less.
Issues with Being An InteleTravel Agent (

Red Flags

)
---
***You Will Not Make Good Money with InteleTravel***
What is the essence of starting a business and not making money at the end of the day? You cannot quit your day as an InteleTravel agent because of the low earnings.
The Income Disclosure Statement for both 2017 and 2018 shows that you will not make good money. You will just be working for the company, and you will have nothing to show for it.
If you are joining InteleTravel as a new travel agent, you will not make money. Scrutiny of their 2018 financial report reveals that 97.57 % of their travel agents earn an average annual income of $165.92.
While the Travel agents at the top of the pyramid, i.e. 2.01% of the travel agents make average yearly earnings of $3,833.68 (this are the people earning money, but it is still a peanut)
The average annual revenues of all the travel agents are only $970!
Therefore, if making money is your objective. This business will not be a good venture for you.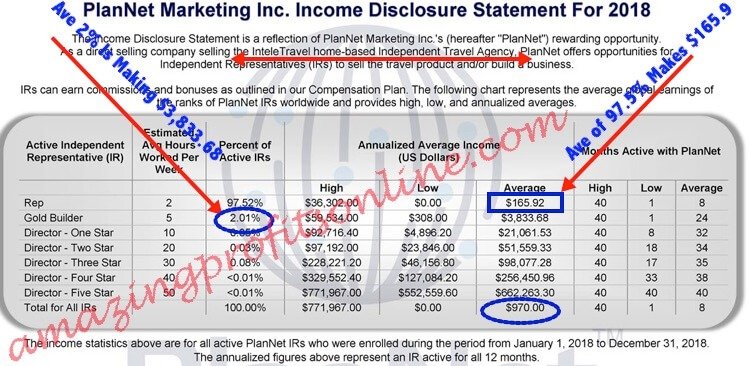 It costs a whopping $179.99 one-time enrollment fee to become an InteleTravel agent with a $39.95 monthly agent fee.
As if that isn't enough ripping, there is a $19.95 monthly charge that you will be paying for the partner company, i.e. PlanNet Marketing, that you have no business with.
No employee likes to experience a delay in getting paid. The terms and conditions of InteleTravel give room for a lot of delay in paying the travel agents.
You have a 60-day wait period after the travel is completed before you get paid.
Not only that, but payday is also on the 15th of the month after the mandatory 60-day wait period. That sucks.
There are so many complaints online about InteleTravel agents that could not even get paid at all after working and earning a commission. This is another serious red flag. The implication is that you may not make money with InteleTravel.
See samples screenshot below:
Entry-level employees struggle to understand the process and how to build a business.
Let's face it; not everyone is a great marketer and most people who love to travel like to travel only. Introducing a money-making venture sucks away the fun of traveling.
This is why the failure rate is so very high. It is only the top agents at the very top of the pyramid that are making real money because everybody will be working for them and that includes you.
At first glance, InteleTravel seems to be devoid of all traits of an MLM scheme. Here's a shocker.
InteleTravel is a partner of PlanNet Marketing ( as shown above); The founder is a member of their corporate management team.
To become an agent, you have to register through PlanNet Marketing.
There are several complaints about the inability to cancel the membership or get a refund within the 30 days money-back guarantee period.
You must consider your options before paying for the membership; otherwise, you may never get your money back. See screenshot of some online complaint:
***InteleTravel May Not Be For You***
Do you love traveling or is traveling your hobby? Then this program may be for you. But if you are chasing this for the money, you will fail woefully.
You must be very interested in the first place because you will not make good money doing this (as seen from Income Disclosure for 2017 and 2018).
It is not also that simple planning traveling for someone else; it is a lot of responsibilities; except you are an existing travel agent or a tour guide. You need the passion or necessary skill to make this work out for you.
Is Inteletravel ABTA Registered?
---
Yes, Inteletravel UK is now a registered member of ABTA. ABTA concluded and admitted Inteletravel UK officially on the 20th of March 2019.
ABTA was founded in 1950. It is the largest UK travel association.
They are in charge of travel agents and tour operators that are involved in the selling and distribution of various travel plans in the UK.
ABTA ensure regulate and ensure the following:
They maintain a standard in the travel industry

There are schemes and structures that protect travelers in case of compensation if something terrible happens e.g., they provide insurance covers.

They make a case for the travel industry as regard and relating to Government policy.
InteleTravel UK joining the ABTA took two good years to process and vetted by ABTA.
ABTA verified the InteleTravel UK compliance to the regulations and standards required to practice and handling of travels by members; this includes members training as regard financial protection.
ABTA claimed that InteleTravel met their criteria before the membership is granted.

Source: ABTA Website
Is InteleTravel a Scam?
---
A common question asked in many fora is this " Is InteleTravel legitimate?"

InteleTravel is not a scam; It is a legitimate way to make money online as a travel agent.
It is an award-winning, internationally recognized and legitimate travel agency with a direct-selling business model (i.e., Multi-Level Marketing).
The company has also been in business for over 25 years. This is proof that it is a legitimate business. Otherwise, the government would have taken them down.
However, its income claims are not valid as 97.65 % of their travel agents earn an average annual income of $69.95. 1.81% of agents make an average yearly income of $3,101.78.
The average annual salary of all the travel agents is only $282.19.
My take from this earnings report is proof of what happens with Multi-Level Marketing programs. It is only the top people on the pyramid that is making money.
The first set of members that join the scheme in the case of InteleTravel are the 1.81% that are making an average yearly income of $3,101.78 while the down liners are 98% of members that making an average annual income of $282.
As a newbie, why would you join, when you can only make less than $300 in a year? In my opinion, InteleTravel does not worth your time and money!
There are many complaints online, a screenshot below is one angry agent of InteleTravel:
InteleTravel Vs Wealthy Affiliate
Is InteleTravel Worth It?
---
Thanks for reading my InteleTravel review? Do you think InteleTravel is a Scam? Can you make money with InteleTravel with what you now know?
While it is easy to get attracted by the notion of traveling the world, you may find it tough to create the kind of income you seek if you are a newbie.
However, I will like to recommend a product that is free to join and enables earn while you learn.
I have been able to rake in four figures as my monthly income and gain financial independence.
The product, Wealthy Affiliates will enable learn the perks of affiliate marketing and gain your financial income from the comfort of your home.
To find out more about Wealthy Affiliates click my link here.
What do you think of my InteleTravel review? Do you think you can make money with InteleTravel? Kindly drop your thoughts in my comment section below. I will love to hear what you think.
Related Articles:
It is great to meet you finally. John is my name, and I'm the owner of Amazing Profits Online. I am a Full-Time Affiliate Marketer at Wealthy Affiliate, a community that teaches anyone to earn a full-time income online with their own passion-driven online business. No Credit Card Is Needed. It is FREE to Join. You can also Click here to get to know more about me.