You are welcome to my Skyway Capital Review! Can you make money with Skyway Capital?
I am sure you are here to learn all about the Skyway Capital. Is Skyway Capital a scam?
Or, is the Skyway Capital a pyramid scheme?
Well, it is good you are researching about Skyway Capital, this is how I discover how to transform my skills/hobby/passion into a full-time income online.
It is good you know that I am in no way affiliated to this company, and I will be feeding you a detailed and unbiased review of this Multi Levi Marketing program.
Join me as I unravel the Skyway Capital Partner Program.
At the end of this Skyway Capital Review, you will be able to conclude if Skyway Capital worth it or not.
Please read on.
Must Read Articles:
Skyway Capital Review at a Glance
---
Program Name: Skyway Capital Partner Program
Headquarters: Dzerzhinsky Avenue, 104к2. MINSK 220116, Minsk, Belarus.
Industry: Transport Technology & Investment Services
Founder: Anatoly Eduardovich Yunitskiy
Products: Mono Rail Vehicles and Tracks
Services: Education Investment Packages (EIPs) & Crypto Units
Price: $500
Rating: 15%
Recommended: No
Summary of Skyway Capital Review
---
Skyway Capital promises its investors an opportunity to become co-owners in a company of international repute that seeks to reach 50% of the global transport market. But, can you really make money with SkyWay Capital?
Though in my personal opinion, Skyway Capital is NOT a scam.
But, I will not invest in this company because the company is always playing along with regulatory bodies. They sometimes avoid financial regulators of their target countries.
While Russia is the base and primary source of investment in Skyway Capital, your country could be the next destination of this scheme.
Recently, The FMA (Financial Markets Authority New Zealand) became the latest country to announce and published their second warning about Skyway Capital on 21st August 2019 because they discover that Skyway Capital will not stop conducting seminars in the North Island.
Before then, Slovak National Bank announced (on 16th January 2019) such regulatory warnings to its residents about Skyway Capital.
They joined countries such as Belgium, Czech Republic, Estonia, Germany, Greece, Indonesia, and Italy that have rolled out such suspected scam alert to its citizens.
Many financial regulators believe that investment in SkyWay Capital is now an investment in Pre-IPO sales.
Are the financial regulators and authorities of these countries right?
You will later see why it is a great and lot of risk buying into any Pre-IPO.
Skyway Capital made the following claims:
They promised to offer you the greatest opportunity to make good profits while building a great mutually profitable partner structure.

You have to purchase the share of the company at a cheap price of up to 500 times of the face value with a promise that you will make a better return on investment of 1,000%.

They also want to offer you lifelong dividends from every project of Skyway Capital.

Skyway promises its investors a 22% ROI for investing in the company.

However, there is no physical product, so how does Skyway Capital intend to get funds to compensate its investors?
And why is it that Skyway Capital is not offering such stocks in Russia to promote any Russian project? Why your country? Read on to discover within this Skyway Capital Review.
What is Skyway Capital?
---
SkyWay has repeatedly portrayed itself as an innovative company in the future. It advertises itself as the technology miracle of transportation.
The company seems to ride on telling you that if you are smart enough to look at the history of tech giants like alphabet and apple, you will have the foresight to invest in the shares they have been selling.
SkyWay Capital is a transport technology from a Russian engineer by name Anatoly Eduardovich Unitsky.
The objective of this innovation is to move high-speed rail vehicles on steel wheels using a flat steel track structure; that is both fixed and anchor at both ends.
The technology is known as "Technology of the String Transport" The technology has been around for over 38 years and it has received some awards from governments and also secure UN grants.
Sources: lend.skyway-capital.com
The real name of SkyWay Capital is First Skyway Invest Group Limited which was established on 20th November 2014; the registered office in Greater London.
The registered address was changed on 18th of May 2017 from Gable House 239, Regents Park Road, Finchley, London, United Kingdom to Suite 3095 10 Great Russell Street London WC1B 3BQ (
Source: beta.companieshouse
Further Skyway Capital Review shows that the new address is a Mail Post Office Box
This exhibits all the classic characteristics of a pyramid scheme as well as because Skyway sells its shares without the prospectus being approved by a competent authority of the various countries of their operations.
However, currently, there is no listing on any public exchange for SkyWay Capital so; you are just purchasing prospects. The question is this, will you make money with SkyWay Capital?
Cost to Join SkyWay Capital
---
You can join and invest in SkyWay Capital in two significant ways. They are explained below:
Join FREE Via SkyWay Capital Partner Program
You automatically become a partner if you join through the SkyWay Website and sign a partnership agreement inside the SkyWay Capital personal office (within the website).
Then start promoting SkyWay as a free partner straight away after you must complete your email verifications.
They will give you a link for your promotion; then, you will start earning interest from partner program four levels, i.e. You will make money from people you personally invite and from your referrals.
Direct Investment with Your Money
There are several package options to join the SkyWay Capital by direct investment.
The minimum cost of joining is $15. Payment is accepting via all forms of payments including wire transfer and bitcoin.
To effectively buy your share of SkyWay capital and invest in this Pre IPO, you must register and verify yourself in your office (at the back end of your profile page).
The

Danger

of Investing in a Pre-IPO Opportunity (US-SEC

Warnings

)
---
Investment in SkyWay Capital is an investment in a pre-IPO of SkyWay. SkyWay Capital is not quoted in any country as of today.
You must know that you are taken a lot of risk in investing in any company doing the pre-IPO offering.
These are signals and pointers to a fraudulent pre-IPO offering:
Great Websites and Social Media Outreach
The company and people promoting fraudulent Pre-IPO usually use very impressive great looking websites.
You can be spam you with emails to exploit investors to search online for online business opportunities.
They Compare the Offer with Established Companies
You are often comparing the share offering with an established organization to lure you into their scam Pre-IPO.
The claim will sound so believable and real such that it will be difficult to reject, but those claim often result in falsehood and deceptive.
You should always be suspicious of such an offering you get to know online.
They Hide the Identity and History of Promoter
Do you find out about the Pre-IPO online? If you get to know through a stranger or via an advert, you need to do your research to be sure the company is real.
Always search out for the discipline and history of the promoters of such companies. And look out for countries they have ventured into before now.
What Is the Value of The Company?
You will need to look out for more information about the company and what they do and how they did it.
You should ask the following question about the company:
What are the product and services of the company?
Who are the targeted customers?
Does the company have a physical plant, resources they claimed to possess?
Do they have audited financial reports? If so ask for copies to review them.
It is essential to always verify every claim before parting away with your money.
Such Company Will Never Go Public
From the history of scammers and fraudsters; they always use the predicted value of the future pricing of the offering to lure, bait, and pressure you to part with your money.
Don't allow those false promises to make you go for such offerings.
It is important you know that such a company may never go public and you may never recoup your initial investment cost.
Source: The US Security and Exchange Commission (SEC) Rolled out This Alert on The Risk of "Pre-IPO" Investment.
What Is the SkyWay Capital Partner Program?
---
According to the Skyway Capital Review on their website, "anyone can invest."
However, I want to imply that this seeming opportunity is a shadow of nothing. In my opinion, it does not worth your money.
Many countries have outright strongly warned its citizens against it. Just like the mmm Ponzi scheme, Skyway has a history of setting up shop in a state, ripping the citizens off, and packing shop.
SkyWay Capital Compensation Plan
---
This exhibits all the classic characteristics of a pyramid scheme as well as because Skyway sells its shares without the prospectus being approved by a competent authority of the various countries of their operations.
Skyway has the intrinsic attribute of a scam.
It does not have any product or service up for offer other than a call to action to invest at least $15 in what was tagged as its SkyWay Capital partner program.
You can purchase and become a SkyWay Capital partner program at any level as long as you have the resource, i.e. Money it requires to join a particular level.
The different levels are explained in details below:
You will become a registered SkyWay Capital partner investor if you have signed the SkyWay partnership agreement form in SkyWay's personal office.
There is also an opportunity to earn interest from four levels in the partner program, i.e. You earn interest from those partners you invited and also make money from partners that were invited by your direct partners.
You will earn this status as a partner if your investment volume reaches $100 and your first generation is made up of two and more people with an investment volume of $100.
The total investment volume of your first generation must be from $300 and above.
Leader status is available to a partner whose investment volume is $200, and your first generation is up to a minimum of three people with investment volume from $200.
The total investment volume of your first generation with personal investment must be from $2,000.
You will only earn this status if your investment volume is from $1,000 and your first generation is made up of at least three Leaders; with personal investment volume from $200.
The total investment volume of your first generation including the personal investment should be from $5,000.
You will receive this status if your investment level is $5,000 and you have three partners that are Masters; two of which are in the first level and the remaining one is at any other level but situated in another branch or leg.
The total investment volume of your first generation with the addition of your investment must be from $10,000.
This status will be available for a partner with a personal investment level of $10,000.
Such a partner must also have a minimum of 3 Experts (two of the experts must be in the first level); while the last one Expert can be at any level but another branch or leg.
The summation of the investment of your first generation as a Top Expert (including your investments) must start from $30,000.
Your TOP Bonus will be 1% of the amount from the SWC; which will attract investment in a single month.
TOP Bonus is split equally and shares between all TOP Experts, the company, and the most successful regional leader.
The partner program will pay you up to 24 legs deep, but you must be ready to pay more and recruit more to increase your level in the SkyWay Capital partner program.
Important: In my opinion, the SkyWay Capital partner program is a recruiting scam.
SkyWay Capital share has no value but is being used to get your hard-earned money in a Pre IPO (Initial Public Offering) of the company.
Source: Download the PDF format of the SkyWay Capital Program Compensation Plan Here.
How to Make Money with SkyWay Capital
---
You can make money by investing in the SkyWay Capital project. The company promised to make you money by investing in the company technology. And you can do that in three major ways now.
This is an investment opportunity in SkyWay Capital Pre-IPO share purchase.
The SkyWay Capital gives a massive discount for every share of the company you buy made in the early stage of the project.
This share purchase as at the time of writing this review (2020); you can buy 33,000 shares of SkyWay Capital for $1,000 though they claimed that the real cost of the share is one share = $1. People that already bought and held the share can sell at this rate as of today.
The SkyWay Capital claimed that you could start earning from your investment in SkyWay Capital. This is one big way to make money with SkyWay Capital. The amount of investment you made in SkyWay Capital will determine the number of dividends you get.
SkyWay Capital Referral Program
You can also make money with SkyWay Capital by referring your friends and family members to also invest in SkyWay Capital. You have rewarded a percentage of investment from all your referrals.
As at the time of writing this SkyWay Capital review, you will be paid 15% of the amount invested by all the people you introduced to the SkyWay Capital. For instance, if you invite your father to invest $10,000. The company will instantly pay you $1,500.
Skyway Capital Customer Service and Support
---
There is indication all over the internet that partners can contact the following phone number and email address for support and customer service:
Phone Number: +7 495 419-04-56
Email Address: support@skyway.capital
You may receive support in the following three languages: English, German and Russian languages.
They claimed that the SkyWay has 24 hours and seven days' support that will answer all your questions and complaint.
SkyWay Capital Payment Method
---

You will need to first apply for the withdrawal of funds from your profile refer to as a personal office.
You can get out your money via your bank card or through the following listed medium: QIWI, AdvCash, Perfect Money, WebMoney, Bitcoin.
Issues with SkyWay Capital
---
The project of SkyWay Capital looks great. And I believe that it is a wonderful innovation that will work in the future. Maybe the future is now!
The founder "Anatoly Yunitskiy" is a real person and we know who we are dealing with; unlike many Internet businesses with a fake identity.
The problem for me is the investment aspect of SkyWay Capital and many of SkyWay Partner companies in many countries and Pre-IPO sales.
You can not make money with Skyway Capital. These are the many reasons why the SkyWay Capital/Skyway Group capital has issues.
SkyWay Capital Is Not Qualified as An Investment Company
SkyWay Capital has never qualified to be an investment company in any country in the world.
Every investment company in any country must always subject itself to the rule and regulation of such a country.
This company likes cutting corners and invade registration to get certifications as an investment company in any country of entry.
They have no qualifications to sell or buy shares in any EU country.
There are evidence of various countries that have slammed SkyWay Capital for not passing through the regulatory screening before starting their Pre-IPO (evidence below)
An instance is the Czech National Bank alerting the resident that the investment in securities and shares of Eurasian Rail SkyWay System Holding is not according to regulation and not lawful.
Source: Czech National Bank
The state of Greece also stopped and banned every advert of SkyWay Capital in Greece stating that the regulators do not approve their ads.
The Greece Securities and Exchange Commission revoked all advertisements of EUROSYAN RAIL SKYWAY SYSTEMS HOLDING II LTD with the website (https: //www.skywaygreece.com/).
The regulator is standing on the "provisions of article 24 of Law 3401/2005 as in force."
Source: The Economy News247 of 13th November 2018.
Slovak National Bank known as Národná Banka Slovenska – NBS issued the latest warning to the resident of Slovakia against the investment in Skyway Capital.
The warning was issued on the 16th of January 2019. This is the latest of all the warnings so far.
Source: Slovak National Bank Regulatory Alert
The Federal Financial Supervisory Authority (BaFin) is the financial regulatory authority for the state of Germany.
They also published a statement sighting evidence of missing prospectus for the sales of a share of SkyWay Capital.
Source: BaFin Website
Warnings by Foreign Competent Authority About SkyWay Capital
A lot of countries (some evidence sighted above) have alerted their resident about the activities of SkyWay Capital in their countries.
The most apparent warning came from FMA – Financial Markets Authority for the New Zealand Government Agency.
They are responsible for the regulation of financial activities in New Zealand.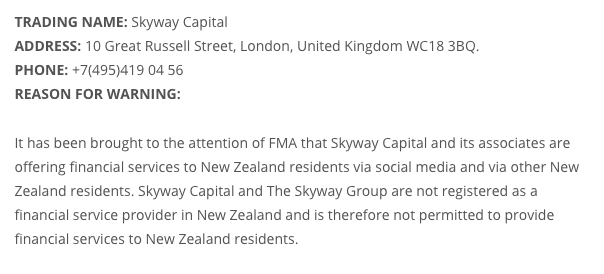 Screenshot of Skyway Capital Review:Source: Finance Magnates
They alerted the general public on the financial services offering of SkyWay Capital and its associates. Their various activities on social media are also noticed and through some residents.
They caution that Skyway Group and Skyway Capital are not a registered financial service provider in New Zealand.
You are warned that SkyWay Capital is not permitted to provide such financial services to New Zealand residents.
FMA also refers to similar warnings from the regulator of other countries such as Belgium, and Lithuania.
The Financial Services and Market Authority (FSMA) warns the Belgian residents and investor about SkyWay Capital (a company registered in Belarus) not to patronize the Pre-IPO share offerings.
They claimed that SkyWay Capital is running its financial activities without a published prospectus approved by FSMA.
They insisted that SkyWay Capital is not allowed to offer its Pre-IPO sales in Belgium as per regulators.
Source: FSMA
They sighted that Skyway Capital and its agents are suspected of being involved in the scam and that they are not authorized and unlicensed to operate in those jurisdictions.
The Bank of Lithuania also issues a public warning to the resident of Lithuania of the activities of SkyWay Group of luring the populate to invest in the group projects.
They claimed that the general public might lose their money because the scheme adopted by SkyWay Capital shows and reflects the features of a pyramid scheme.
Source: Bank of Lithuania
Lithuania Authority Cancelled Their Project With SkyWay Capital
When several countries ban a company and warn their citizens against conducting transactions with it, it certainly begs the question of legitimacy.
Also, none of its planned projects with some countries have come to fruition.
Belarus based SkyWay Capital started a project with Lithuania in 2014, but the plan was not executed because the project was canceled due to what is referred to as suspected financial fraud.
People criticize and slam the government and the legislators of their decision to sign MoU with such a company with no physical operational project anywhere in the world.
SkyWay Capital claimed to be in talks with countries such as India, Australia; Turkey, and recently in Nigeria.
The string technology smuggled itself to some countries in recent years, but there is no evidence yet of any successful project with SkyWay.
Many of the SkyWay company that was registered in different countries were dissolved in the recent years; company such as American Rail Skyway System, Euroasian Rail Skyway System, Australian, and Oceanic Rail Skyway System, etc.
Screenshot of Skyway Capital Review on Economic TimesSource: Economic Times
SkyWay Capital Is Not Listed in Any Public Exchange
Advertising daily ROIs of up to 22%, which is another red flag. This is an attempt at a bull market that is set to strip you clean of every penny.
If you invest you are only buying fabricated shares (Read My warning above on Danger of Pre-IPO sales).
Yes, they may give you a paper (Certificate) that they are reserving your holdings; it is merely unreal and worthless.
SkyWay Capital ads claimed that if you invest $4,000, you will have a holding of 1m shares.
When the company enters the stock market, you have one share for $1. i.e., a Million share will be exchanged for $1m for you.
When they go public if at all they do, the demand and supply will kick in and one share cannot equate to $1 as they insist.
Redemption of your certificate was guaranteed for $1 for one share if they go public and the stock nosedive; they promised to buy one share for $1.
Do you think they can buy all the shares at that rate? If it happens, the company will go down.
In 2016, SkyWay Capital promised to go public in 2018; this is 2019 they yet do that. Do you think they will ever go public?
No Specific Contract Signed with Any Government/Country
The company claimed that billions of dollars' worth contract had been signed with several world governments around the world.
There is a specific claim of a signed contract with the Indian and Australian government worth over $900m.
No evidence points to that fact, and no one either investor or any government agency is ready to provide any evidence to such claim
SkyWay Capital itself is yet to supply any document of such signed documents to its partner nor investors.
No Visible Source of Income for SkyWay Capital
Its affiliate Partnership compensation rides mainly on member's referrals using newly invested funds to pay off existing investors.
This is a case of collecting money from Peter to pay Paul and using Jane's money to compensate Peter.
Also, there is no public registration of SkyWay Capital with any securities regulator, which is a piece of evidence if a company about to go public.
The only income or source of funds SkyWay Capital is leveraging on is the investor funds from the people that purchase its worthless shares.
If indeed the company is wholly dependent on the funds from investments of partners and registration fees from new members.
Then the company is practicing redistribution of funds via pyramid and Ponzi scheme.
Assessment of SkyWay "String Technology" Is Dangerous
The Moscow State University of Railway Engineering concluded that the SkyWay Capital string technology project is unsafe and not viable.
The technology was labeled as having several system defects, unsafe for public use, and impractical.
The university also observed "a large number of system defects." They concluded that technology could lead to an accident and a lot of human death.
Screenshot of Skyway Capital Review on WikipediaSource: Wikipedia
The Past of Evgeny Kudryashov (Director SkyWay) Is Scamming
The past always hunts people. The history of founder and director is not that great.
He has a history of involving himself in many scamming products.
He is associated with MMM-2011 Source: allmlm.ru
See the list of many other scamming products of Mr. Evgeny Kudryashov:
Mill Trade
MMCIS
Macros Capital
Forex
Forex-trend
CenterReklama
Betting-Invest

Source: Evgeny Kudryashov Personal Website
What is Good About Skyway Capital.
---
You will ask me what is good about this Company? They have good intentions that can not help you make money with skyway capital.
The following are my findings:
Anybody from any country can join and invest as long as it does not break the law of the country that you live.
You can invest as a company or as an individual
As an investor, you become a shareholder of SkyWay group of companies within one month of investing.
The Share Can be issued to minors, i.e. Children can key into the share against the future
Is SkyWay Capital a Scam?
---
SkyWay Capital is a sophisticated technological scam.
The company portrays itself as the next best thing to the transport systems and calls for investors. These investors are promised high ROI, but there is no visible product or means of getting funds.
So, what Skyway will do is sell shares to investors and promise to repurchase them at $1. If you want to make money with SkyWay Capital, you must invest money in a non-existent business?
Technically, there is no value for the shares until they list. There is also no guarantee that the shares will ever be in the market.
With warnings raining from the different regulatory agency; and government of nations sensitizing their resident not to invest in a Pre-IPO that is termed very dangerous by US Security and Exchange Commission.
Why will you sink your hard earn money or funds or an entire capital of your state or nations into this?

Screenshot of SkyWay Capital Review/SkyWay Group Complaint on Quora
SkyWay Capital Vs. Wealthy Affiliate
---
Is SkyWay Capital Worth It?
---
Thanks for reading my SkyWay Capital review? With what you now know, can you make money with skyway capital?
Is SkeyWay Capital a Pyramid scheme? Or, Is SkyWay Capital a scam?
While it is easy to believe that by investing a certain amount in a company, you can get 22% as your ROI, making money online isn't as simple as that.
It also isn't complicated as affiliate marketing has proven to be a significant sector to earn passive income online.
I will not recommend Skyway Investment as it has been banned in several countries including Estonia, Belgium Italy, and Latvia. It may seem that Skyway does not have the license to sell any stocks from any EU country.
However, I will recommend Wealthy Affiliate. This affiliate marketing product has enabled me to earn a four-figure passive income every month.
Wealthy Affiliate will provide you with internet marketing training that will help you to earn while you are learning. What do you think about my SkyWay Capital review? Can you make money with Skyway Capital?
Kindly drop your thoughts in the comment section below. I will love to hear what you think. Do You Like This Article? Please Share It and Help People From Getting Scammed
Relevant Articles:
It is great to meet you finally. John is my name, and I'm the owner of Amazing Profits Online. I am a Full-Time Affiliate Marketer at Wealthy Affiliate, a community that teaches anyone to earn a full-time income online with their own passion-driven online business. No Credit Card Is Needed. It is FREE to Join. You can also Click here to get to know more about me.