You are welcome to my Apple Affiliate Program review! Ever wondered how you could make money on iTunes Affiliate Program? What is the Apple Affiliate Program commission rate? Does Apple Affiliate Program worth It?
If you already have a blog or a website, then you can start making money with Apple iTunes Affiliate Program. Join iTunes Affiliate Programs.
I am pretty sure you have heard about iTunes before, right?
iTunes is a music app by Apple Inc. that allows users to download and play music and videos from Apple devices such as iPhone, iPod Touch, or iPad.
Apple came up with an affiliate program, which helps publishers worldwide earn commissions by promoting their products.
The program is iTunes Affiliate Programs or Apple Affiliate Program.
Every time a buyer buys from a text link that leads to any of these iTunes content such as movies, books, music e.t.c. on your site, you will earn a commission.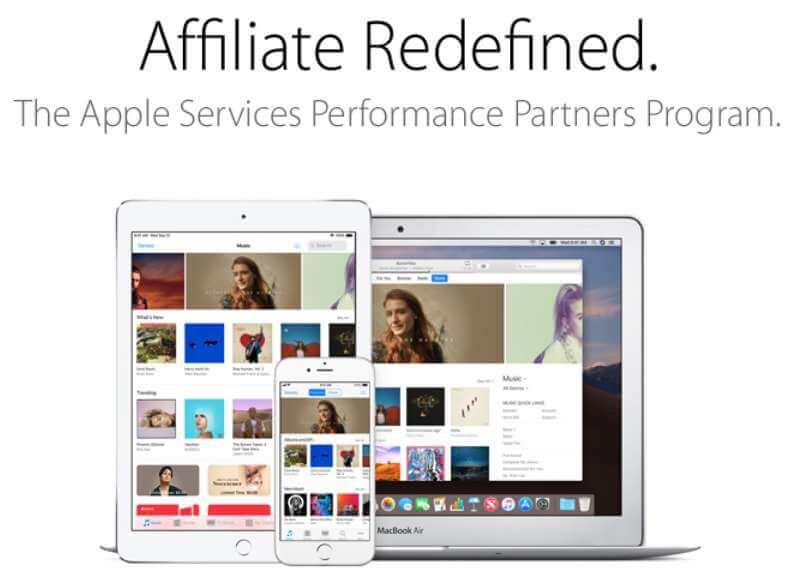 Must Read Articles:
 Applying to The Apple Affiliate Program
---
Becoming an affiliate to the Apple Affiliate program is very straightforward, it is fast and free.
Performance Horizon Group runs iTunes Affiliate Programs. This Apple affiliate program helps you earn a commission every time you refer a customer to their products.
Apple products range from iPhone, iPad, Mac, Apple TV among other accessories.
Your earnings vary depending on some clicks to the Apple store (i.e., iOS App Store, iBook Store, iTunes Store, Mac App Store) and the money customers spend.
If somebody purchases an Apple product via a text link or banner on your site, you will earn a 7% commission that is paid by Apple based on successful transactions made.
The iTunes Affiliate Program is available to anyone with a blog or website, and it is free to join. For you to join the program, you will need to apply through their login page. The application is easy, fast, and straightforward.
You will be required to create a username and password. And provide your contacts.
For your application to be successful, you will be required to provide a working link to your blog or website. After you apply, it takes about five business days to get a response from Apple.
They will send you an email notifying you that your application is under review. However, Apple reserves the right to reject any site, which does not meet its set standards.
If your application is successful, you will get detailed information on how to get started. You can use your website, social media accounts, or email to post your affiliate links.
Apple does not put any restrictions when it comes to affiliate linking. What do you think of my Apple Affiliate Program review? Do you think you can make money on Itunes Affiliate Program?
Requirements for Apple Affiliate Program 
---
Your iTunes Affiliate Program application may be rejected for the following reasons:
It is a must to have a website or a blog
If you are an App developer, if you fail to provide your website link or link to your App on the iTunes App store
Your website must not be under construction; so you must give the URL.
If your application is rejected (which is very unusual); you can always provide your website or App link whenever it is ready.
Also, you can avoid rejection of your application by observing the following:
Also, ensure your blog, website; and content did not infringe on Apple and any third-party trademark.
Your blog or website must not contain sexually explicit material
There must not be an Apple-related trademark in your domain name
Your site or privacy blog policy must be display on your site
You must not use any images or text from Apple website or store
Your promotion must not contain hate and invasive materials
Lastly, if you know you have observed all the above and still, yet your application is rejected; you can reach out to the Affiliate Support Team and ensure you provide all your details.

Facts About the Apple Affiliate Program
---
You need to have a website or a blog to become an affiliate.
You will earn 7% commission on any iTunes product sold
Commissions are available to cash out after 90 days of sale.
The cookies period is 24 hours. That means you will earn a commission if someone clicks your link and makes a purchase within 24 hours.
For you to receive payment, you are required to meet the minimum payment threshold. The minimum payment threshold varies from one country to another.
Your site must not contain objectionable content that is explicit or abusive.
Links that direct people to Apple Store products do not earn the commission with this program.
However, links to iTunes Gifts within iOS are available for affiliate commission.
If your site is incomplete, your application will be rejected.
You are not allowed to use Apple trademarks or logos on your site.
Cost and Price of Apple Affiliate Program
---
It will cost you nothing to join the iTunes Affiliate Program. It is FREE to join
Is Apple Affiliate Program Country Specific?
---
iTunes Affiliate Program is open to many countries/regions, and they are all supported.
You can check if your country or region is on the list here
Payment Set-Up for Apple Affiliate Program 
---
As an iTunes Affiliate, you must make available your banking information by selecting your currency choice and you must set your minimum payment limit by login into your iTunes Affiliate account.
You can receive commission via a direct deposit payment (directly to your account irrespective of your country). The payment threshold is as a result of your country and currency of your choice.
The important thing to note is this, iTunes Affiliate Program payment is only available 90 days after the date of sales.
Payment Method for Itunes Affiliate Program
---
iTunes Affiliate Program has two payment methods. You either decide to get your payment via your bank (direct deposits) from anywhere in the world or using the iTunes Store Credit payment.
***Direct Deposit Payment Method Set up***
Sign in to your dashboard, go to your settings, then choose the payment method
If you decide for a single/multiple currencies go to (add payment method); you will require the following information:
You will need your bank information which includes SWIFT or BIC code.
A SWIFT – Society for Worldwide Interbank Financial Telecommunication code or Bank Identifier Code – BIC code identifies particular banks uniquely worldwide.
It is commonly used in the process of international wire transfers. It is made up of 8 or 11 alpha-numeric characters
***iTunes Store Credit Payment Set-Up***
What Exactly is iTunes Store Credit About? iTunes Store Credit is a new payment method that helps iTunes Affiliate to make purchases within the iTunes Store, Mac App Store, iBook Store, and App Store.
It is included as an option for payment to the iTunes Affiliate Program.
Sign in to your dashboard, go to your settings, then choose iTunes Store Credit payment.
The minimum payment limit for iTunes Store Credit is $5/¥500 while the maximum value is $500/¥50,000 respectively.
How to Make Money on iTunes Affiliate Program
---
To earn commission on the iTunes affiliate program, you will need to append your affiliate token (which is sent to you via email) to iTunes URL.
You can do this by copying iTunes URLs from their iOS store using their copy link option. However, you can still type it in if you don't mind.
On appending your affiliate token to iTunes URL, you will start earning a commission every time a person purchases through your link.
The iTunes Affiliate Program is available to 134 countries. That means the currency they use is different from one state to another. Make sure you update your payment information before getting started.
iTunes Affiliate Program helps you earn well just by adding a banner or text link to your site. In addition to making an income, it is an excellent way to get traffic to your blog or website.
Besides creating a website, Apple allows publishers to use their social media accounts like Facebook, Twitter, Pinterest, or Google+ to promote Apple products.
If you are a developer, podcaster, or just looking to become an affiliate joining the iTunes affiliate program is an excellent way to earn extra income. What do you think of my Apple Affiliate Program review?
iTunes Affiliate Program- Frequently Asked Questions – FAQs
---
How Does iTunes Affiliate Program Works?
On becoming an Apple Affiliate, you will be able to use Apple text links with their banners on your website.
Your earnings or income is proportional to the number of customers you refer from your site that finally purchases Apple product
What Are The Condition To Become An iTunes Affiliate Program?
Becoming an Apple Affiliate is free, and you must have a website before you can join. Apple does not approve of any affiliate without a site.
Your website will be a review in less than five working days. After getting your approval, you can as well use any platform for your advertisement, but your website must be in place to get approved.
If you don't have a website, claim a FREE one here.
Sign On Process for iTunes Affiliate Program?
 Start your Apple Affiliate registration here.
Can I Use Apple Logo And Name on My Website?
On getting approval to become an Apple Affiliate, you will have full access to the approved marketing assets already design by Apple.
You are not allowed to alter or modify these marketing assets such as banners and other resources made available for your marketing success. These promotional materials are regularly updated as trends changes in the industries.
You can locate approved banners and other promotional material within the Affiliate Program platform
How Much Can You Make on Itunes 
You can not decide the amount you will make. But your effort on effective promotion of Apple products and the volume of traffics you can drive from your website to the Apple sales page will determine how much you can make.
If a buyer returns a product for a refund, or if there is any dispute and charges are reversed or fraud on credit cards, a commission earned already will be debited for such transaction.
But if a product is a return for an exchange with another product your commission will be intact. You can get more of these with the Affiliate Agreement area.
==>An Online Education That Is Better Than a College/University Degree
Where Can I Check How Much I Have Earned?
 As soon as your approval is in place and you register. You will have access to your password protectedprofile area where you can view your earning report at any time.
Note: It is essential you get visit with the Affiliate Agreement page before you place your request to become an Apple Affiliate otherwise you may not scale through.
Ensure your webpage conforms to the stated guideline with Affiliate Agreement
Are All App Publishers Qualify as An iTunes Affiliate Program?
As an app publisher, you must go through the normal process to access to become an iTunes Affiliate member.
Therefore, it is not automatic to get approval as an app publisher.
Can An Affiliate Negotiate iTunes Affiliate Program Term and Condition?
You cannot negotiate the current term and condition for an iTunes Affiliate Program
Can One Decide a Preferred Currency for Payment on the iTunes Affiliate Program?
You can decide which currency you wish to accept for your commission payment irrespective of your country of the region. Two factors can affect you though.
The exchange rate of your country may change the amount that gets to your account later, and
The minimum payment threshold may be higher than expected; you may not be able to cash out your earnings in a good time.
In the case of iTunes Store Credit, you must ensure that the currency you choose and your bank in the country you reside in must be the same. You only have two option of currency for your credit redemption (USD and JPY)
Is Apple Affiliate Program Worth It?
---
Thanks for reading my Apple Affiliate program review. I am sure you now know how to make money on Itunes Affiliate Program. But, is the Apple affiliate program worth it?
It is a very legitimate program that is obvious. Is there anything else you like to know?
Please feel free to drop your comment in my comment area down below. I will respond to you immediately.
What do you think of my Apple Affiliate Program review? Are you Itunes Affiliates already?
Are you making money on the Itunes affiliate program? What do you think of my Apple Affiliate program review?
Thank you for visiting my website.
Relevant Articles:
It is great to meet you finally. John is my name, and I'm the owner of Amazing Profits Online. I am a Full-Time Affiliate Marketer at Wealthy Affiliate, a community that teaches anyone to earn a full-time income online with their own passion-driven online business. No Credit Card Is Needed. It is FREE to Join. You can also Click here to get to know more about me.