You are welcome to the 30 Minute Money Methods Review. Can you make money with 30 Minute Money Methods? Is the 30 Minute Money Methods legit or a scam?
You will agree with me at the end of this article that the four PDF training Material Is not worth the money.
You will also see that the product was put together from day one with the intent of defrauding you without the plan to make you money online.
Must-Read Articles
The 30 Minute Money Methods A Glance
---
Name: 30 Minute Money Methods
Price: $37
Owners: Shelly West (Fake Name)
Rating: 3%
Recommended: No
What Is The 30 Minute Money Methods?
---
This is about 4PDF training that includes four online home-based money-making schemes.
According to the sales video uploaded on the site; you are promised of making a lot of money if you can purchase this program.
The problem is this, the 4 methods of making money highlighted in this training 4PDF can be found in the online public domain.
I have reviewed many of these programs. Usually from click bank.
Origin of The 30 Minute Money Methods
---
Shelly West has created the product. As claimed she started earning through these methods in 2015.
But no specific time has been mentioned about the launch of the product.
Looking at the bank statement shots in the video the product launch date can be assumed to be November 2017.
Also, there is no such name as Shelly West in the online world. No FaceBook, LinkedIn, or Twitter related to this name. It can be assumed to be a fake name.
Features 30 Minute Money Methods
---
30 Minute Money Methods  has the following features:
It is an online work from home money making method.
The creator claims the techniques can help make $500 in 30 minutes or up to $600,000 p.a.
You do not require any educational qualifications or work experience to work on the methods.
You can do this from any location and at any time of the day.
There are a 60 days cash back guarantee if the user is not satisfied with the product.
Benefits of 30 Minute Money Methods
---
Though the product claims to provide substantial monetary benefits to the user, the scheme looks too good to be true. It has elements of scam written all over it and to me, they will not help you make money.
There are hundreds of such online scamming programs everywhere. You just need to do your research to be sure you are taken the right decision before joining.
Though, this program is not restricted to a specific country. Anyone from anywhere can use the product. But I do NOT advise you to join, please.
What Does 30 Minute Money Methods Sell or Promote?
---
The program is selling four money-making techniques that can be employed from home. The four methods proposed includes:
Online Voice Over
Freelancing
Stock Photography
Playing Video/Games Online
Costs/Price of 30-Minute Money Methods
---
This program comes at a discounted price of $37 plus upsells up to over $90
Is 30 Minute Money Methods Legit Or Scam?
---
In my opinion, if this is not fake then what will you can it? You invest $37 for schemes that are everywhere in an online domain.
Additionally, the disclaimer policy of the product's website states that it offers no guarantee that you will earn money. The use of FAKE testimonials from FIVERR is also a warning that this program will not make you money.
It is an absolute scam way of collecting your hard-earned money; making people believe that those testimonials are real. It is definitely a scam in my opinion. See other major reasons why 30-Minute Money Methods is a scam:
***The Owner Name "Shelly West" is a Fictional Character***
We have searched every social media to get whom Shelly West is. There is no such social profile name against any of the major social media online.
The simple truth is that Shelly West is not the real creator of this program.
There is no way to authenticate her identity online. Verification of the status of your product owners will give a lot of confidence to an online audience.
In this case, I can conclude that the name Shelly West is a fake name adopted to be the product owner.
***Fake Testimonials Video***
You will also observe that everyone uses to testify about how good this program is from Fiverr. They are professional testimonials. They are paid to lie about how good this training program is.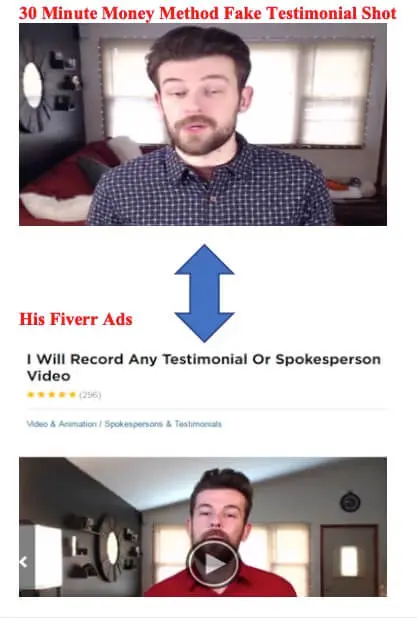 Why would you employ and pay someone to lie about your online program if it is not a scam?
See pictures of these Fiverr workers from other programs while playing different roles as Fake testimonials
***Forged Income Proof***
It claimed you would make a lot of money within 30 minutes if you sign on to the program. It is just FAKE.
What is Good About 30 Minute Money Methods
---
The Refund policy is the only good thing I find in the product.
30-Minute Money Methods Compliants
---
***Huge Upsell***
Though the Fake Owner Shelly West promised that there is no upsell; she virtually lies.
The actual cost Is $37, but you will be offered one-time fees of $99; if you declined, you would be asked to go for $49.
The program also offers you an affiliate link of their own to set up your website; which will earn them an extra commission.
***No Support For Members***
There is no direction or evidence of support for members.
You cannot also contact the owners for any questions or queries. Since the owner is even fake, who will you reach?
***Over Stated and Impossible Income Claims***
It overstated what the product could help you achieve. There are a lot of over hyped-up in their sales pitch.
They claimed that the program could help you make over $50,000 in a month! That is ridiculous; even making money on a website with a focused niche with take you a minimum of a year to start making over $10,000 monthly.
You are also promised that you will be able to be making over $600,000 annually; this is an extreme overexcited of the highest order.
Some Almost Impossible Promises
***It Is All Fake***
This training program set up and the structure was planned to scam you at the inception. Why will anyone use fake testimonials on their sales page?
The aim is to mislead you to pull out your credit card to make a purchase.
They employed Fiverr freelance to make the video testimonials.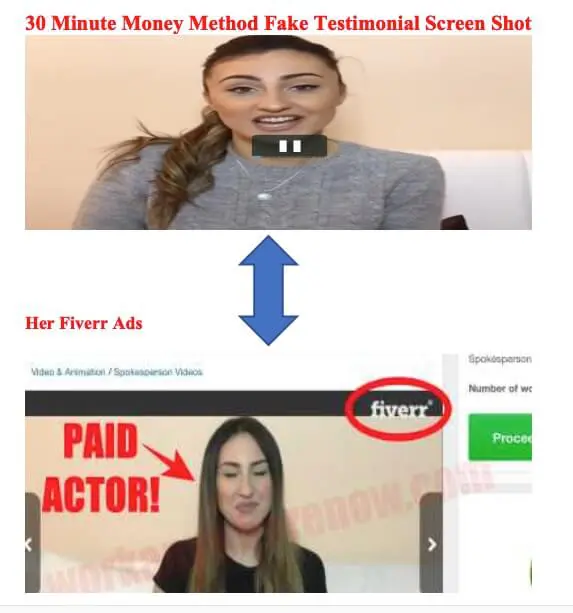 ***The Program Offer No Value To Members***
With 4 PDF training Material that can be downloaded via search engines. This is a waste of money and resources. You can get what they bundle up easily and free via Google.
Therefore, there is no value addition in their offerings.
Who is 30-Minute Money Methods for?
---
This product is targeted at stay at home moms, single parents, and anybody looking for ways to earn extra income.
Since the product is about online methods, the usage is not restricted to a specific country.
4 PDF Training of  30 Minute Money Methods
---
The training promised to help you make money online through the following four methods. They provided you with a PDF download for each of the methods.
***Selling Photographs Online***
This method highlight how you can make money online selling pictures.
***Playing Games Online***
Some companies will pay to play video games.
They are generally looking for testers who would be able to find any flaws in the game before it is launched publicly.
This PDF highlight how you can go about playing video games for money.
***Working as a Freelancer***
You can function as a freelancer for some job profiles like a writer, developer, and designer, and so on. This PDF training states how you can make money as a freelance.
***Working as a Voice-Over Artist***
This PDF training will show you how you can audition for voice-over artists work from your home, and how you can submit your work on several websites online.
You can expect better income if you can voice over in multiple languages.
Alternative to 30-Minute Money Methods?
---
There are many alternative methods for these products. Most especially if you want to work from home and have no qualifications or experience and little money can try some of the following ways:
You can become an affiliate marketer with little or no money, you can do this even without any investment. 
You can become a freelance writer with a great gig on Fiverr. People are making a lot of money with Fiverr you know.
There are several websites you can also make money as a writer; I did an article on several alternatives to iWriters
You can get paid online to draw. Most especially if you are a good drawing artist. You can learn how to become an artist instead of wasting your life away with this scam.
More:
Lend money online: Online peer-to-peer lending platforms like the lending club and prosper provide a 4-6% rate of interest. You can start by lending an amount as small as $25.
Earn money by investing small change: Download the Acorn app that link-ups with your debit and credit cards. It will spend the difference in your bill amount.
You can make money by renting out your expensive items, clothes, shoes on sites like craigslist and style lend.
You can find various part-time WFH options listed on flex jobs like virtual assistant jobs.
If you have writing skills, be writing for several magazines both online and offline. See how to be making over $500 writing for top magazine online. 
Design products and sell them on stamp press.
Sign up with early birds and earn $10 for each beta testing assignment.
Online games like second life and Team fortress 2 allow you to sell the virtual property for real cash.
The above techniques are similar to 30-minutes, but they offer you realistic returns. But you can learn most of the above directly by yourself without paying a dine.
Online Opinion of 30 Minute Money Methods
---
The comments section of the various online reviews of the product shows that people are highly dissatisfied with the product with some even claiming it to be a scam.
Many people can 30 Minute Money Methods a scam. I think it is one.
What do you think of my 30 Minute Money Methods review? Is 30 Minute Money Methods legit or a scam? Can you make money with 30 Minute Money Methods?
Is 30 Minute Money Methods worth It?
---
Thanks for reading my 30 Minute Money Methods Review? Can you make money with 30 Minute Money Methods? Is 30 Minute Money Methods legit or a scam?
In my opinion, my recommendation will be for you not to subscribe to this product.
It is what you can learn on your own online. The four PDF information compiled is in the public domain.
The way this program target the newbie and people that know nothing about how to make money online.
The promotional testimonial video is a work of many Fiverr professionals that paid to lie of what they have achieved with the program which is a false way of promoting any products that are said to stand the test of time.
I will be recommending my #1 online business ever.
It is the most trusted online business that can make you over $10,000 monthly within two years. You will have to put all you have into making it work.
The good news is this; this fabulous online business will help you to be solving a real-life problem for millions of people around the world.
This online training will help you turn your passion/hobbies and Ideas into a thriving business online.
What do you think of my 30 Minute Money Methods review. Can you make money with 30 Minute Money Methods? Is 30 Minute Money Methods legit or a scam?
Kindly drop your thought in my comment area.
Relevant Articles
It is great to meet you finally. John is my name, and I'm the owner of Amazing Profits Online. I am a Full-Time Affiliate Marketer at Wealthy Affiliate, a community that teaches anyone to earn a full-time income online with their own passion-driven online business. No Credit Card Is Needed. It is FREE to Join. You can also Click here to get to know more about me.