You are welcome to my DoorDash Driver FAQs review.
Do you plan to start Dashing for DoorDash? These are many questions and answers about DoorDash.
Are you a DoorDash driver? Do you have any questions you want answers to about DoorDash?
This article is all about frequent ask questions about DoorDash drivers and customers.
It is important to start asking questions about companies that claimed to make you money online.
This was how I discovered how to make a full-time income online blogging.
Are you thinking of making money with DoorDash? It would be best if you thought twice. Please read a complete review of why it will be tough to make a full-time income with DoorDash.
Must Read Articles:
How Much for DoorDash Delivery?
---
The standard fee for DoorDash Dasher's food delivery is $5.99.
The cost can go up as high as over $8; it all depends on the distance, restaurants, time of delivery, and, most importantly, the agreement of DoorDash with the restaurant involved.
Public holidays, events, promotions, and discounts can influence the DoorDash Dasher fee.
You can usually get discounts on over $15 delivery and most of the time new customers have more discounts on their first order.
Can DoorDash See Tips?
---
Yes, DoorDash drivers will see the tip the customers left for them via the app. Tips, they saw help the dashers decide if to take the delivery order or not.
Dashers will receive 100% of all the tips that DoorDash received. This is one major question in DoorDash Driver FAQs.
The amount that DoorDash will pay you as a DoorDash driver will not be influenced by the amount of tip you received as a Dasher.
As a DoorDash driver, you will receive a push alert whenever any customer affects a posting tip on an already executed order, and you will see an update of your earnings and breakdown for each delivery.
Can I Tip DoorDash After Delivery?
---
Yes, DoorDash can be tip after the delivery. You can tip at the checkout page stage just before selecting the menu "place order."
There is an option for you to choose a specific amount you like to tip your driver as a customer ordering food.
Also, you can adjust or modify your tip even after the checkout. You just need to file a support case. This is a DoorDash FAQ that most of their client does not know.
How to Delete Cards Off DoorDash
---
This is another common DoorDash Driver FAQ. This is steps to update your credit card information on DoorDash website or through the app:
Delete Your Card From DoorDash Website:
Visit the check out page
Click the "Change/Add" in the Payment section
To add a new card, click " Add a new card or Click "X" to remove your existing card if you
are adding a new card, you have to provide your necessary information.
If you have multiple cards on your DoorDash account, you must select the card that will be
active as your payment card, i.e., Click " Use Card" and save the changes you have made.
Delete Your Card from DoorDash Mobile App:
Visit the DoorDash account tab
Choose the " Payment Cards"
At the right-hand corner of your app, choose " Adda Card" or " Delete" to remove a card by swiping to the left. If you are adding a card, you must provide the required and needed information.
You must choose your active card, i.e., if you have multiple cards you must select the default card by clicking " Use Card" and ensure you save your changes
You just need to click on your chosen card to make it the default payment to use for your payment.

Note: If no default card is choosing, the last card used will be taken as a default card by DoorDash. This is one question that dominates DoorDash Driver FAQs
Does DoorDash Pay If you Don't Get Orders
---
Another common DoorDash Driver FAQs on quora is this " Does DoorDash pay me even without getting an order?"
No, DoorDash will not pay you for waiting for orders.
DoorDash drivers get paid for completed delivery orders.
And DoorDash may reimburse you for a partially completed order, such that you get to the restaurant, and they have already closed.
DoorDash may guarantee your hourly pay, most notably in a new market, to ensure that the Dashers are well compensated.
If the fee for an hourly rate for a new market is $15, and you completed a delivery that is not up to the $15.
DoorDash will make up the difference in hourly pay for you. This only happens during peak periods and in a new market.
DoorDash may, however, introduce payment for waiting for orders; this improves the commitment of the DoorDash drivers.
What is DoorDash DashPass?
---
DashPass is a subscription service for regular customers in eligible restaurants.
Only service fee and a minimum subtotal may apply, there is no delivery fee when a customer subscribes to a DashPass.
DashPass subscription is only allowed in the US and Canada for now and it is one of the most ask DoorDash Faq.
So, how do you cancel your DashPass subscription? DashPass subscription can be canceled at any time through the DoorDash app or the website.
Every DashPass monthly subscription must be canceled at least a day before your next subscription and renewal date; else, you will be charged for the next subscription period.
The DoorDash cancellation policy for the annual DashPass subscription is more friendly such that if the subscription is canceled before using the DashPass, DoorDash will refund you the full amount of your yearly plan (that is already taken).
But if the DashPass subscription is canceled after you have started using the DashPass, you will be able to retain the DashPass subscription benefits for 12 months, and there will not be any refunds.
You will be able to retain the benefits for your full 12-month billing cycle, but will not receive a refund.
[su_box title="SEE WHY DRIVERS ARE LEAVING DOORDASH " style="bubbles" box_color="#0f6fca" title_color="#ffff"]
My Friend Was a Dasher For Five Years! See What He Is Now Doing? Making Six Figures Working From Home. . . Click Here to Learn More
[/su_box]
Can You Order DoorDash with Cash?
---
Yes, you can order DoorDash with cash.
This is another DoorDash faq that my dasher got wrong. All DoorDash driver must know that DoorDash accepts cash payments.
But, how does DoorDash cash payment work?
The customer will pay the DoorDash driver upon delivery of the order. Dasher will be aware of the nature of such delivery before accepting to deliver the order.
The Dasher will collect the cash payment from the customer, and they will have the cost of the order deducted from their direct deposit payment for the week.
What is DoorDash Cash on Delivery?
---
DoorDash Cash on delivery is when customers decide that they are not going to pay for the order (food) online.
It works this way:
DoorDash will alert the DoorDash driver of the cash on delivery orders
The Dasher has the option to accept or decline the order (No repercussion for a decline to your acceptance rate)
You will collect the cash payment on delivery of the order to the customer
The DoorDash driver will keep the cash payment, and it will be deducted later from your next direct deposit payment by the DoorDash.
What Time Does DoorDash Pay on Monday?
---
DoorDash pays Dashers weekly for all the completed deliveries made between Monday to Sunday of the previous week. The cut off time is at midnight PST.
You will get the money in your account by Wednesday night.
All the DoorDash drivers will get paid directly to their bank account via direct deposits.
You will get paid on every one of your deliveries and tips earned in the previous week.
So, Dashers get paid weekly, except if you are on Dasher Fast Pay.
How Much is Fast Pay on DoorDash?
---
The cost and charges or fees for Fast Pay on DoorDash is $1.99.
What is DoorDash Fast Pay?
---
So, what is DoorDash's fast pay? Fast pay will allow Dashers to cash out their earnings at any time and daily.
Cash Pay helps the DoorDash driver demand their payment rather than waiting for their weekly direct deposit payment.
How Does DoorDash Fast Pay Work?
---
DoorDash Fast Pay helps Dasher's demand for their payment at any time. How does it work?
Dasher must have done a minimum of 25 deliveries and must have to be a DoorDash driver for a minimum of two weeks to qualify for DoorDash Fast Pay.
DoorDash Fast Pay will only work with your debit card and not a prepaid card.
Therefore, you must have a debit card to use DoorDash Fast Pay services.
Can DoorDash Deliver an Alcohol?
---
Yes, DoorDash can now deliver alcohol beverages to you with your desire meals
You can order alcohol from both warehouses, stores, restaurants, and breweries that are in partnership with DoorDash.
As a DoorDash driver, you must observe the alcohol delivery guideline because you can be held liable. You must lawfully deliver the alcohol.
You need to know that you can be held liable if you deliver alcohol to a minor or anyone that is visibly intoxicated for this process and procedure to protect yourself and the customer.
Check out Guidelines for DoorDash Alcohol Delivery.
Where Can I buy DoorDash Gift Cards?
---
You can purchase your DoorDash Gift Cards on DoorDash.
You can also buy DoorDash gift cards at different locations, such as listed below:
Best Buy,
Albertsons and
Safeway
You can also get the DoorDash gift cards via online at:
Amazon.com and,
BestBuy.com.
You can also get the Digital DoorDash gift cards online at:
PayPal.com,
Amazon.com,
Walmart.com,
Target.com,
GiftCardMall.com and,
GiftCards.com
Use this link to purchase gift cards from DoorDash.
Can I DoorDash Without Red Card?
---
No, You will need your Red Card as a DoorDash driver for about 25% of your orders.
Your red card is as good as your hot bag, most restaurants and merchants will not permit you to go with the food without the hot bags.
Can I Use a Restaurant Gift Card on Doordash?
---
No, you can not use Restaurant Gift Card on Doordash.
The way restaurant delivery services work will not permit you to place an order with your restaurant gift card.
This also applies to other delivery services like:
Uber Eats,
Postmates, and
GrubHub.
Restaurant gift cards can mostly be used at stores but can not be used on most of the delivery apps, which also include DoorDash.
Can Someone Else Doordash for Me?
---
It is against the Dasher's operational policies and procedure for someone else to dash for you.
What can happen is for you to DoorDash with someone. Maybe the person is driving while you are with the customer's order.
There are no rules that exempt you from having your friends in your car while delivering your DoorDash orders.
Can You Cancel DoorDash Order?
---
DoorDash cancellation depends on whether you want your money back or not.
You can only get paid for any order canceled if the restaurant is yet to accept your order.
Cancellation of order already received by the restaurants can affect your restaurant rating.
Also, you will not be paid for any order canceled.
So, how do you cancel an order?
Go to the top right corner of your screen; you 'll see an icon of an image with the headset on. Just click the " cancel order button" that is at the bottom of your screen.
Note, you must avoid cancellation of your order. It is critical to contact DoorDash support if you need to cancel any order at 855-973-1040
Does DoorDash Accept Venmo?
---
Firstly, what is Venmo?
Venmo is a way to make a payment between people and friends that know trust themselves.
You can use Venmo to effect payment for goods and services via Venmo card at various merchant centers, mobile apps, or websites that accept them.
But, does DoorDash take Venmo?
Yes, DoorDash will accept eGift Cards that can be bought via Venmo card only at the eGifter platform.
When you buy eGift Cards, you earn eGifter Points. DoorDash eGift Cards are from $15 to $200.
You can give the gift of food delivery with a DoorDash gift card
Gift cards are only redeemable for orders placed on the DoorDash website or app in the US. You can not redeem Gift Cards for cash.
Does DoorDash Come to the Door?
---
Yes, DoorDash will deliver to your doorstep. That is why it is called Door-Dash (the Dasher dash to the Doorsteps).
After an order is placed, the Dasher will pick it up from the restaurant and deliver it to your door.
Most Doordash customers always instruct Dashers to leave food at the door by placing stickers at the door (" leave food at the front door for me" ).
Does Doordash Deliver Olive Garden?
---
No, as at the time of writing this DoorDash Frequent Ask questions, Olive Garden is not on DoorDash yet.
These two companies have no relationship with each other again.
But DoorDash can soon be doing delivery services for Olive Garden at any time.
Does Doordash Track Mileage?
---
It is the function of the Dashers to keep track of their mileage. Dashers are Independent contractors.
The implication is that you can reduce the amount of taxes you are supposed to pay significantly by working on deducting your business mileage and the expenses you incurred.
Everlance provides an app that will help you track your work mileage during your delivery, and you can then work it out with the business expense you incurred.
Most Dashers engage Everlance. Everlance helps Dasher's track both mileage and expense possible and very easy.
As an independent worker, you can reduce your taxes by deducting your business expenses from your taxes, which earn you more money.
Watch a YouTube video of how to use Everlance to track your mileage so as to reduce the taxes you 'll pay as a Dasher.
How Late is DoorDash Open?
---
The DoorDash drivers make deliveries between the hours of 8:00 AM, and they can be as late as 11:00 PM.
DoorDash closing hour is 11:00 PM.
How Long Does It Take to Get DoorDash Kit?
---
According to DoorDash, It will take between one to four business working days to take delivery of your activation kit most especially if it is home delivered one.
What Comes in a DoorDash Activation Kit
---
Your DoorDash activation kits will include:
A Hot bag to keep the food warm all the time
Red Card
Your Orientation manual.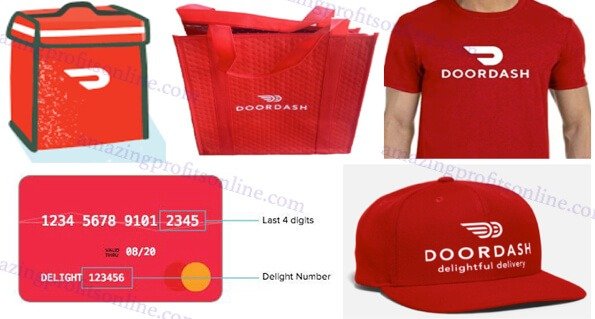 How to Track Your DoorDash Activation Kit
---
You will receive an email with the needed tracking information of your activation Kit.
It usually takes between one to four days to get the delivery of the DoorDash activation Kits.
Can I Start Dashing Without an Activation Kit?
---
Yes, you can DoorDash without your activation Kits as a DoorDash driver.
You must be already activated, and you are an instant Dasher.
All you need is the DoorDash downloaded the app.
Can I Use my DoorDash Red Card for Gas or Personal Stuff?
---
The credit card provided by DoorDash to all Dashers is called Red Card.
The Red Card is to be used solely for paying for deliveries at merchant or restaurant locations.
Therefore, NO, you can not use the DoorDash RED card for gas or personal stuff.
How to request DoorDash Activation Kit
---
To request your DoorDash activation Kit, you must sign up to become a Dasher.
You will need to indicate your preferred orientation method and decide if the activation Kit should be shipped to your location via USPS.
You will complete the W-9 form. The activation confirmation page must show to confirm that your request is successful.
Can You Do Doordash with a Rental Car?
---
Yes, you can do DoorDash with a rental car.
Many drivers make over $1,000 weekly after the deduction of rental fees.
Can You Do DoorDash Without a License?
---
No, you must have your driver's license before you can secure a DoorDash driver job.
DoorDash requirements include your eligibility to work in the USA, i.e. (a work permit or Visa); it is not a must to be a citizen to be a Dasher.
This is one funny DoorDash Driver FAQs, You also don't need a car and other transportation means will suffice.
Will DoorDash Pay Me for Gas?
---
No, DoorDash will not pay you for gas. And they should not pay you for gas.
It is to your advantage because if they pay you for gas, it will affect your earnings.
That is a mileage deduction from your expense.
What Does eta Mean on DoorDash?
---
It implies that your order is taken longer than expected.
[su_box title=" MORE DASHERS ARE MAKING SIX FIGURES DOING THIS!!!" style="bubbles" box_color="#0f6fca" title_color="#ffff"]
See Why DoorDash Drivers Are Leaving DoorDash . . . Now Making Six Figures Online. . . It Is What You Can Also Achieve. See How. . . 
[/su_box]
How Old Do You Have to Be to Do DoorDash?
---
You must be 18 years of age to work for DoorDash.
Some states in the US specified you must be 21 years of age to make deliveries of alcohol.
Who Owns DoorDash?
---
DoorDash was founded in June 2013 by Stanford students Andy Fang, Stanley Tang, and Tony Xu.
The company has its Headquarters in Rialto Building in San Francisco, California, the U.S. Learn more about DoorDash on Wikipedia. 
What Time Does DoorDash Open?
---
DoorDash will open to Dasher to scheduled from 8:30 AM to 11:00 PM.
Does DoorDash Deliver to Hotels?
---
Most hotels have their self restaurant services, and they mostly go against external food services.
If, in any case, any hotel is not offering self food services, then there is no way they will oppose any customer ordering external food services.
So, can you order a delivery to your hotel room? Yes, if the hotel you are lodged in is not offering restaurant or food services.
But, if by any means your hotel is ordering food services, you will need to check with such hotel management to be sure you can order food via DoorDash.
The good news is that DoorDash will deliver your order anywhere, and that includes your hotel as long the location is within the coverage area of DoorDash.
How Long Does DoorDash Background Check Take?
---
Most DoorDash Background Check will take at least between 3-5 days.
You must follow up via email if, by chance, DoorDash does not get back to you in a few days after submission of your application.
Or you these two email address: dasher@doordash.com
And also contact Checkr directly with this email address (support@checkr.io), just to be sure if they are yet to conclude with your background check.
How Do I Know If I Got Approved For DoorDash?
---
You can know if your application to DoorDash has been approved in Three ways:
Use the link to continue your sign up process by clicking "Already started signing up?"
You confirm through the email address and phone number that was sent back to you when you first signed up.
Check your activation confirmation email you received directly from DoorDash.
Is DoorDash 24 Hour?
---
No, DoorDash is not available 24 hours.
But, this will still be different from region to region. Many restaurants are open 24/7, and most close at 10:00 PM.
Restaurants do set the hours they accept deliveries.
Does DoorDash Hire Felons
---
No, you can not be a felon and do DoorDash.
The DoorDash background check will eliminate your applications. To become a Dasher, you must be 18 years of age, and with a clean record.
You can be a blogger and earn big money online. Click here to learn more.
When Did DoorDash Start?
This one of DoorDash Driver FAQs is often asked by the Dashers.  DoorDash was started and Founded in June 2013 in Palo Alto, California, U.S.
Does DoorDash Deliver Starbucks?
---
Yes, DoorDash will deliver Starbucks.
But, delivery is only available for participating Starbucks locations in both Canada and the USA.
[su_box title="SEE WHY DRIVERS ARE LEAVING DOORDASH " style="bubbles" box_color="#0f6fca" title_color="#ffff"]
My Friend Was a Dasher For Five Years! See What He Is Now Doing? Making Six Figures Working From Home. . . Click Here to Learn More
[/su_box]
How to Contact DoorDash by Phone
---
You can contact DoorDash with this phone number (855) 554-5779.
You can call that phone number between Monday – Friday.
How to Get Money Back From DoorDash
---
DoorDash has no obligation to return your money. They may do this at their discretion. DoorDash can decide to cancel or modify your orders.
It is not a great thing to cancel your order after the restaurant has taken your orders because DoorDash will not refund such money.
It is essential to contact the DoorDash support before you cancel an order already taken by the restaurants. This is a common Doordash faq online.
Which is Cheaper Doordash or Uber Eats?
Both Doordash and Uber Eats will charge you a fee to deliver for them.
Some restaurants have decided to take up the charged fee, and it is listed as a delivery option on the app.
DoorDash will charge restaurants 20% for every order, while Uber Eats will charge 30% for every order.
So, Doordash or Uber Eats cheaper? Doordash is cheaper.
Is Grubhub or DoorDash Cheaper?
---
In this case, Grubhub is cheaper.
The reason is that you will only pay for the delivery fee that is set by the restaurant. Grubhub will not make you pay additional charges to them.
While DoorDash will make you pay both delivery fee to them and service fees to the restaurants (not in all cases).
So, is DoorDash or Grubhub better? Grubhub is better.
How to get DoorDash Pay Stubs?
You can retrieve your weekly pay statements on the DoorDash platform by navigating to the DoorDash Merchant portal.
And you are to choose payment options to see your pending payments top your banks.
You can access the individual payment IDS to view orders for that week. You will be able to see:
the date of the orders,
the deposits,
withholdings, and
deposit details.
You can also view delivery for every transaction to view:
subtotal,
tax, and
commission.
Is Chipotle On DoorDash?
---
A chipotle pepper is a smoked dried ripe jalapeño that is used for seasoning.
But, is Chipotle on DoorDash? Yes, Chipotle is on DoorDash.

Chipotle is currently expanding its delivery and partnership with DoorDash. Chipotle Mexican Grill started rolling out nationwide in April 2019. This is one DoorDash FAQ that is frequently asked online.
Consumers can also order their deliveries from the Chipotle website or the Chipotle app.
What Happens if DoorDash Can't Find a Driver?
---
If DoorDash could not get a Dasher to take your order, what would happen? Or, if you can not receive your DoorDash order, what happens?
All you need to do is to use the DoorDash app (self-help tool with the app). Indeed an interesting DoorDash FAQ. Orders that were not delivered must be reported so a resolution can be appropriated immediately.
How to Skip DoorDash Orientation
---
This is an important DoorDash Driver FAQ. Do you want to skip the DoorDash Orientation?
Just order for the DoorDash activation Kit. You will receive an email from DoorDash asking you to activate your Dasher App.
You will need to register your DoorDash Red card to start Dashing.
What Does Hotspot Mean on DoorDash?
---
A hotspot is an area or perimeter where there is a possibility of getting orders.
A hotspot is not an assurance that will earn you automatic order placement but a guide and to get orders.
They are locations or areas where there are many restaurants where you can get orders at a faster rate.
Just stay within the hotspot perimeter, to get an order. Really strange DoorDash FAQ.
Conclusion About DoorDash Driver FAQs
Thanks for reading my DoorDash FAQs. DoorDash Driver FAQs are Questions and Answers About DoorDash
They are rear questions and answers about DoorDash. Are you dashing for DoorDash or you a customer to DoorDash? Do you have any question(s) that you think I can add to this article?
What do you think about my DoorDash Driver FAQs? Are you asking the right questions about dashing for DoorDash?  Do you have other DoorDash Frequent Ask Questions  'DoorDash FAQ'? You can get more help on the DoorDash website.
I make money blogging about what I have a passion for, see why it is better than dashing for DoorDash. Click here to learn more.
Can DoorDash Deliver an Alcohol?
Yes, DoorDash can now deliver alcohol beverages but with your desire meals
Can You Order DoorDash with Cash?
Yes, you can order DoorDash with Cash but. . . .
Can Someone Else DoorDash for me?
No, it is against the Dasher's operational policy, but you can . . . .
Can You DoorDash with a Rental Car?
Yes, you can DoorDash with a rental card but that can cost you. . .
Can DoorDash Driver Skip Orientation?
Yes, but you must get you kit delivered to you and . . .
Other Great Articles:
It is great to meet you finally. John is my name, and I'm the owner of Amazing Profits Online. I am a Full-Time Affiliate Marketer at Wealthy Affiliate, a community that teaches anyone to earn a full-time income online with their own passion-driven online business. No Credit Card Is Needed. It is FREE to Join. You can also Click here to get to know more about me.