You are welcome to my 67 Steps Review. 
I am sure you are here to find out if you can still make money with 67 Steps by Tai Lopez. 
I am glad you are doing your investigation. This is how to avoid online scams and discover a legitimate online business. 
Is 67 Steps a scam? 
This is a complete review of all you need to know before you sign up for 67 Steps.
Please keep reading. 
67 Steps at a Glance
---
Product Name: The 67 Steps
Founder: Tai Lopez
Product Type: Self Improvement/Personal Development Training
Price: $67 (One-off membership) + Up-Sell)
Rating: 65%
Recommended: Yes

Summary Review of 67 Steps
---
67 Steps by Tai Lopez is an online personal development online professional internet training.
The focus of the training is to help people change their life by focusing on what they want in life. The training is all about how to take personal responsibility and chase their life dream.
The training is made up of 67 lessons, which are mostly video format and also content-based. Each video is about 30 minutes in duration.
My take about this training is that it is legitimate and recommended. But you can avoid paying for this online training if you are disciplined enough. You can get most of what is taught in the public domain, such as Google and YouTube.
What Is 67 Steps?
---
So what is 67 Steps all about?
67 Steps by Tai Lopez is a collection of motivational and impressively enlightening self-help videos that divulge vital information and tips on ways to make money and achieve your financial goals in life?
It isn't, however, some divine sermon that reveals the secret of fantastic wealth; instead, it is a well-researched visual resource for active and would-be entrepreneurs that wish to guarantee success in their business endeavors specifically and life in general.
Unlike many of these types of self-help videos that are ramblings that cannot be applied to businesses, they are just a way to lure many to scam them online.
The 67 Steps by Tai Lopez contains lots of valuable insights that are guaranteed to help business thrive to the point of profitability.
This is only because while many of the content mentioned above mostly contain vague information and unreliable tips, the 67 Steps by Tai Lopez is filled with highly applicable philosophies from well-renowned personalities, both living and dead.
From historical icons like Socrates, Plato, and Gandhi, to highly successful entrepreneurs, including Warren Buffet and Donald Trump.
The 67 Steps by Tai Lopez is packed with the innovative wisdom of these individuals, which is guaranteed to haul any business endeavor to the next level.
Do I Recommend The 67 Steps?
---
There are lots of self-help content loitering the corners of the internet, with many boldly claiming to be the Holy Grail of valuable information that is capable of transforming your life with just a snap of your fingers.
Several other entrepreneurial mentoring sources proclaim to contain the secrets that you need to become a successful millionaire.
67 Steps by Tai Lopez, however, is neither of these two since its primary aim is not to create false hope in the hearts of its audience.
What this course, however, guarantees is eye-opening information about the mannerisms of entrepreneurship and business in general that will help you become a more enterprising individual.
Who is Tai Lopez?
---
Despite dropping out of college abruptly, Tai Lopez went on to have a stable career as a financial planner and also became a very successful businessman.
His success as an entrepreneur didn't just fall into his hands as he was only able to achieve it through hard work and complete adherence to the teachings of his much-revered mentors and other accomplished individuals like Bill Gates and Charlie Munger.
It is from these diverse experiences that he was able to fashion a blueprint…a blueprint for financial success that will later be called The 67 Steps.
The idea behind the content's name stems from an assertion by Mr. Tai Lopez, who suggests that scientific studies claim it requires 66 days for a new habit to be formed.
He, however, included one more day for good luck, which led to the birth of one of the most valuable entrepreneurial resources on the internet.
How to Make Money with The 67 Steps 
---
67 Steps by Tai Lopez is not a direct money-making tool like most resources of its kind, but apart ways to making massive money in any of your undertaken in life. Therefore, if you're only interested in quick returns that require very little investment, this is undoubtedly not for you.
What 67 Steps training resource, however, offers are basic guidelines that must be passionately adhered to if you wish to become a successful entrepreneur that runs a thriving business.
Learning these several principles and practicing them are proven strategies for making your money work for you and for securing your future.
So while you definitely won't make money in the short term with this training course, Tai Lopez will take you through how you will turn any business you venture into to multi-million dollar business.
This training will fill you with valuable knowledge and expertise to become an endeavor of yours into a profitable enterprise.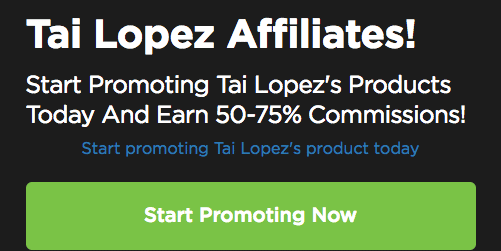 67 Steps  Affiliate Program
You can make huge money online, referring to 67 Steps by Tai Lopez. This will be made more comfortable if you have a blog of your own.
It is so straightforward to create a website for your online business these days. You can earn a lot of commission from every sale you made.
Your main task is to let your audience online knows about Tai Lopez 's program, and you will be rewarded for every conversion that you make to a commission.
The good news is that you can also promote several other affiliates or products online for a commission.
What Is In 67 Steps Tai Lopez
---
The 67 Steps courses feature as the primary product sold on Tai Lopez's website.
This life coach also offers consultation services for users that have chosen to adapt his quite essential success ingredients, which he has expertly etched into 67 amazing videos.
Some of the enthralling titles of the inspiring collection are "Be Worth a Damn," "Life Long Learning," "Be Adaptable," and "Prioritize."
Each of the 67 video resources doesn't just contain verbal explanations of the title concept but also includes practical demonstrations and analogies to confirm the central premise of the content.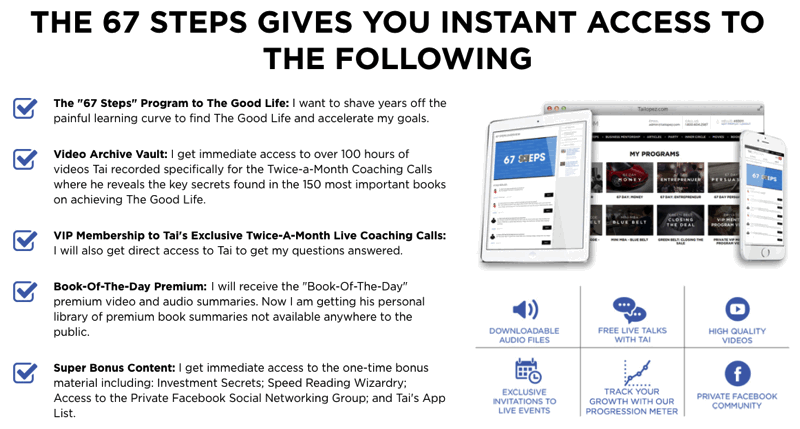 Costs of 67 Steps
---
With a price of $67 for the entire collection of 67 impactful videos, The 67 Steps by Tai Lopez remains one of the more affordable self-help packages on the internet at this moment.
Acquiring the training course doesn't only give you several hours of life-changing information, it also ensures that you become a registered member of Tai Lopez's ever-growing associate base; and this grant you access to additional perks like his mentorship program, investment secrets, and a private social networking group.
Is This a Good Business Opportunity?
---

Since the content in The 67 Steps videos does not in any way generate swift revenue for its consumers, it is very wrong to call it a business opportunity.
But this training will help you approach any of your undertakings with a business-like attitude.
You should know that 67 Steps by Tai Lope is a set of guidelines that must be well understood if you wish to run a profitable business anywhere in the world.
It works, and it will work anywhere and in any region.
What I Like About 67 Steps 
---
Perhaps the most obvious perk of acquiring The 67 Steps course is the permanent access you get to the training videos.
Another significant perk of the training course is the fact that every suggested tip and strategy comes with real-life examples to ensure that the videos contain substantial evidence of every premise within.
At a fee of $67, it is fair to say that this product is perhaps one of the cheapest entrepreneurial resources on the internet.
My Issue with 67 Steps 
---
One can say that established entrepreneurs well know the information contained within the videos. There isn't a defined route to earning money.
Who needs The 67 Steps by Tai Lopez
.
If you are an entrepreneur, either expert or beginner, and you wish to establish yourself in your undertaken, or you want to do well in every area of your life, then the resources within the course may perhaps be precious to you.
I can also say that the content of this product will be useful to many seeking profitable ventures.
The 67 Steps by Tai Lopez may not be a money-making product or innovation directly. Still, it is, however, a valuable asset to individuals who are set to break any barrier in any of their undertakings and business entity.

Is 67 Steps Worth It? 
---
What do you think of my 67 Steps by Tai Lopez Review? I can categorically tell you that you can make good money with the 67 Steps by Tai Lopez.
You need to have an idea of what you want out of life and make up your mind to put into practice what you will be thought.
If and when you subscribe to the 67 steps, you must be ready to chase your dreams and ready to implement the training.
You can only make money with 67 Steps by Tai Lopez If you are ready to work it out. You must be determined to make it all the way through.
This program is key to making it in life, there are no ways you'll subscribe to 67 Steps by Tai Lopez, and you apply what he teaches diligently that you will not make huge success that will result in more money in any of your business endeavors.
What do you think? You now know what 67 Steps by Tai Lopez are about. Kindly drop your thought and comment below.
It is great to meet you finally. John is my name, and I'm the owner of Amazing Profits Online. I am a Full-Time Affiliate Marketer at Wealthy Affiliate, a community that teaches anyone to earn a full-time income online with their own passion-driven online business. No Credit Card Is Needed. It is FREE to Join. You can also Click here to get to know more about me.