You are welcome to my Explode My PayDay Review. Can you make money with Explode My Payday? Is Explode My Payday legit or a scam?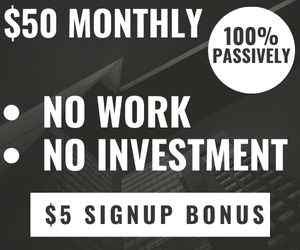 The first thought that popped into my head when a subscriber sent me an email asking me to review this product was "double pay on payday."
But alas, I was wrong. It is a great thing that you are taking your time to research before buying any product.
This is how I discovered how to make a full-time income online with my skills, passion, and hobbies online.
However, I will like to reassure you that I am not in any way affiliated with this product, and I will be giving you a detailed analysis devoid of prejudice.
Read on to find out my discoveries on Explode My PayDay.
Estimated reading time: 9 minutes
Must Read Articles
Explode My PayDay at a Glance
---
Product Name: Explode My Payday
Founder: Meaghan Harper
Price: $47 + Upsells
Rating: 2%
Recommended: No
Summary Review of Explode My PayDay
---
Explode My PayDay has nothing to do with your actual payday. The product is nothing but claims upon claims on how to help you make $1000 per day.
Meaghan Harper, the so-called founder, promises that you will make tons of money, but in reality, you are not buying into any product.
Continue reading to find out if Explode My Pay Day is a legit product or if it is a scam waiting to explode in your face!!!
What is Explode My PayDay?
---
Explode My Pay Day has a name that will make you stop in your tracks.
Everyone loves an extra source of income during payday to help ease the burden of expenses, and the name of this product will attract you to it, however, before you part with your $47 wait and do a recheck.
Explode My Payday claims that it can help you make thousands of dollars with its incredible new system.
Its sales page claims that it can help you make $1,000 plus per day while some persons who claim to have utilized the network put up testimonies of making more than $4,000 per month.
Despite all these claims, it is difficult to pinpoint precisely what Explode My PayDay is about.
Meaghan Harper, the so-called founder of Explode My PayDay, claims that she needs 45 people to help her expand her online business.
The business happens to be a digital product sold via Clickbank. Meaghan claims that she wants to grow her team and she has created an account for you and she will pay you to join her team.
According to the sales video she has created an account for you that is already making money for you while you are watching the video.
I found her claims a bit hilarious for a product that isn't so popular how you can claim to make much money for people and remain widely unpopular?
From the videos you know Meghan is trying to sell an affiliate marketing product.
She claims the EMP system works in such a way that it drives traffic from the Internet and drives it to your website and then you start earning commissions.
However, as a seasoned affiliate marketer myself, I know for sure that affiliate marketing is nothing as she describes.
I will explain precisely how the EMP system works later in this review, but you should know that there is no way to drag traffic to your website without proper Search Engine Optimization (SEO).
Can you make money with Explode My Payday? Is Explode My Payday legit or a scam? Can you make money with Explode My Payday?
How Much Does Explode My PayDay Cost?
---
EMP costs $47 for a system that doesn't have a particular product; it is quite expensive. You will also be faced with upsells and down sales.
The initial cost of the product is $47, however; you get pop-ups of down sales while watching the sales video.
There are two down sells for $37 and $17, but there are lots of upsells and affiliate links leading you to other products.
However, you have to be careful as with just one click; you can find yourself spending hundreds of dollars on one-click upsells and affiliate links.
What do you think of my Explode My PayDay review? Is Explode My PayDay legit or a scam? Can you still make money with Explode My PayDay?
What is your take?
Who Is Explode My PayDay For?
---
EMP is good enough for anyone willing to shoot themselves in the foot and the creators of the business.
They'd make money off people clicking on links and purchasing the product.
How to Make Money with Explode My PayDay?
---
The first thing you see on EMP's website is a sale pitch telling you, "This One Simple Loophole Can Have You Cashing 3 Checks a Week."
Next, the sales video starts to play, and it tells you not to ignore it. This video is a testimonial of people claiming they have benefited from the system.
I'll advise you not to input your details as on the sales pitch; you find a slot for inserting you're your name and email address.
However, if you do enter your details, you'll be taken to another page with another video by Meaghan Harper, the CEO herself orienting new members.
In the video, Meaghan will welcome you into her business and tell you the workings of the system.
Next, you are shown a demo account without any penny in it.
Then as she continues the numbers on the demo account begin to increase from $0.00 to $240 then to $625 all these happen within a couple of minutes.
Now that she has your attention, you are taken to another page at the end of the video where you have to make your payment of $47 to get into the system.
I know you are still waiting to learn how you can make money from this system. I also tried searching for it too, but I could not find any.
However, you will find another video explaining to you that the system is so cheap because it is a beta test and she wants to give you exclusive access if not, the product should be priced $5,000. Now, don't you feel privileged?
Basically, according to Meaghan, you'll earn money through made-for-you websites, and there's no effort required on your part to start generating commissions.
She claims that the software Explode My Payday utilizes will automatically send traffic to new sites from your social media sites.
However, this is not how affiliate marketing works.
An affiliate marketer is rewarded based on the amount of traffic he drives to a, and there is no way you can sit and fold your hands and drive traffic to a site.
From what you now know, is Explode My Payday legit or a scam? Can you make money with Explode My Payday?
What do you think of my Explode My Payday review?
Support /Customer Service of Explode My PayDay 
---
EMP has no customer support.
However, you can get a refund through Clickbank as that is the only support provided on their website.
What is Good About Explode My PayDay?
---
I can not point to what I like about this MLM product except for ONE thing.
And that is the refund policy of Explode My Pay Day.
EMP is a ClickBank product, and that means you can get your money back in 60 days.
At least you will only lose precious time if you buy into their tall tales.
Issues With Explode My Pay Day
---
EMP bears the same markings as other scam products such as Your Freedom Mentor and Seven Figure Profit Code. The videos, claims, and settings are the same.
For a system without a product, EMP makes the ridiculous claims of being able to help you make a thousand dollars per day.
They even claim that they can help you get three paychecks in a month.
Fake Creator
The name Meaghan Harper has been used in a bunch of scams and her image is a photo from a stock image website, maybe the real owners of Explode My Payday want to keep their identity hidden.
A ploy to continue another scam system if this one gets busted, I guess?
Fake Testimonials
The testimonials are not real as the people in the video claiming that they've made tons of money are paid actors found on a freelancing website called Fiverr.
Also, most of the testimonials have been used in other scam products before.
Inadequate Information
While the sales video makes constant reference to help you make tonnes of money, it tells you nothing about the product you are buying into.
Is Explode My PayDay Legit or a Scam?
---
This product is a scam. There are many reasons I do not buy into it, and I have already listed some of the above.
But I can tell you that once you input your emails on their website, they will most likely sell your details.
EMP is trying to take advantage of people with its tall tales of helping people make tons of money from affiliate marketing.
Is Explode My PayDay worth Your Money?
---
Thanks for reading my Explode My PayDay review? Is Explode My PayDay legit or a scam?
Can you make money with Explode My Payday?
Affiliate marketing isn't as easy as EMP has portrayed. You need to know about SEO before you can drive traffic and while it isn't exactly rocket science? It still isn't as described by EMP.
I will not recommend Explode My PayDay for you as an affiliate marketing product; you will end up wasting time and money.
However, if you will like to learn about a genuine affiliate marketing product, I will like to recommend Wealthy Affiliate.
I have personally earned a passive four-figure income from it myself. This product will give you the needed training for affiliate marketing while paying you as you learn.
Wealthy Affiliate has enabled me to gain financial liberty. Please learn more about Wealthy Affiliate, click on my link here.
What do you think of my Explode My Payday review? Is Explode My Payday legit or a scam? Can you make money with Explode My Payday?
Do you have any thoughts you will like to share with me about EMP or any other product you want me to review? I'd like to hear from you in the comment section below!!!
Related Articles
Explode My Payday Review (Video)
It is great to meet you finally. John is my name, and I'm the owner of Amazing Profits Online. I am a Full-Time Affiliate Marketer at Wealthy Affiliate, a community that teaches anyone to earn a full-time income online with their own passion-driven online business. No Credit Card Is Needed. It is FREE to Join. You can also Click here to get to know more about me.