You are welcome to my 15 most recent Internet Scams and various ways to avoid scams online.
A scam is basically a crime against property or assets. There are different modalities, as it is understood that such deception can occur both in active and passive modes.
Scammers regularly use advanced innovation with age-old traps to inspire unsuspecting prey to send cash or give out sensitive data.
There is one thing that never shows any signs of change: they take the valuables and the cash.
Although many in number, identifying a scam is not really a big deal once you're aware of how they work. Here are some popular scams:
Must Read Articles
Advance Email Scam (This is Rampart)
This is a process by which the scammer decides to write a mail to bait you to submit your personal information without you knowing.
You can be baited into divulging your credit card information or login detail, i.e., the profile of your social media.
These are the two most common one that is working for the scammers now are a lot of people are now a victim:
#A False E-Mail Message ", Your Facebook, Was Login Into In New York"
You can be sent a mail telling you that your Facebook sign-on was used to login into New York; you are to confirm if you are the one or not.
A link will be available to you to block the person out if you are not the person. Since they knew that it is a trap and you will likely want to block the person.
As you input your detail, the information is being collected at the back-end through a dedicated App.
The objective of this mail is to scare you to submit your personal information that will be effectually used to impersonate you and they can have access to your payment details and all your data.
**Sample Scam Email Sent to My Mail Box to Change My Instagram Password**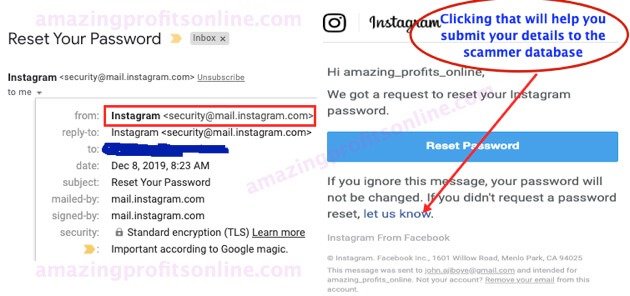 **Sample Scam Email Message to My Mail Box**
Other Ways this can be used are:
Your AppIe ID was used to sign-in to New Device
Your twitter login detail was used in the Russian etc.
**Confirmation Of Your Purchase Order**
A mail will be sent to your email address with a receipt that you just purchased an item with your credit card, that if you did not authorize the purchase, you are expected to report and decline the transaction.
"If you did not authorize this purchase, report this problem and make a transaction report in"
A link will be provided to login in to report the transaction. The information will be collected at the backend and will later be used to defraud you of your hard-earned money.
The only way to avoid this scam online is to never click the link.
**Sample Fake Receipt Sent to Me**
Note: By the time you log in to report, the website in concern would have been duplicated and it will seem to be the original website.
The objective is to make you input your details which can be collected at the backend.
They can then use your details which include your cards, Paypal, and other banking information.
Before you know it you will be receiving an alert of the item bought online with your money.
It is only if you are very vigilant that you will note that it is a clone website to look like a real one (The address will also differ). Other menus are falling back to the same website.
If you click "Contact" for instance; it will still go back to the same website instead of availing the contact of the organization.
ISP (Internet Service Provider) Scams
It is quite common for inexpert clients to sign contracts online without reading clauses, and this often leads to a long-term contract, which one cannot leave without paying heavy penalties for early termination.
Another frequent case is that ISPs, who register domain names, do it under your own name, compelling you to stick with their services in order to save your domain.
Advance Payments On Loans Or Credit Cards
In advance payment scams, fraudsters request that you send cash in advance with a specific end goal to
later get some kind of prize, for example, a pre-endorsed loan. The scammer will request that you pay a charge.
In the event that you send cash, you may find that you do not get anything consequently, or that you do not get what you were guaranteed.
 Impersonation/Phishing
One of the most widespread forms of scamming, phishing generally involves asking users to share personal information like name, age, country, email, or password.
In most cases, you will be asked to click on a link and then enter the aforementioned confidential information.
Using the information that you have provided, scammers could perform illicit activities impersonating you.
Research data proves that almost 5% of users share their data without much investigation.
Data Theft
This type of fraud is more frequent in the case of bank accounts.
Users do not often visit the official website directly, but instead, use a search engine.
This action is not recommended, as search engines probably lead you to a dummy page, which acts as a clone.
If you end up entering your username and password on these sites, it is almost certain that your data will be stolen, which will allow hackers to access your account for their own transactions.
Money Laundering Scam
This scam is to play on your emotion and greediness, see sample mail I just receive below:
As soon as you contact the email address, you will be instructed to pay a certain amount of money to make something possible, this is where the scam really starts. Delete such emails and bloc it permanently.
Unsolicited Spam Mail
Those various bulk emails you received in your inbox/Junk Mail are an attempt to get at you and to lure you to part with your credit card details.
A lot of people that are greedy usually fall victim, looking for free money everywhere.
There is NO free money anywhere, you must work and earn your pay both online and offline, otherwise be ready to be defrauded. See below mail to me recently.
By the time you replied to this kind of above mail, the follow-up mail will be saying how much you are loved and blah blah. . . . You must also know that the could be anyone. Please be guided.
Greeting Card Scam
This happens when you receive a greeting card mail in your inbox from your suppose friend. The objective of the mail is to make you click on the link so as to open and view your card.
As soon as you click the link the malicious code will be downloaded to your devices and the scammer/hackers will have access to your personal details.
Please Do Not open such unless you are sure of the senders.
Grants/Aid For Natural Disasters
It is heart-wrenching to see a disaster strike in any part of the world, and it is often that we do not think twice before donating large sums as aid.
Fraudulent pages or even nonexistent institutions collect
millions of dollars every year as donations. The only problem is that help never reaches the victims.
Therefore, it is in the best interest of you as a donor to find out more about the previous activities of the particular institution or an NGO that you are donating to and make sure that they really are taking up a collection on behalf of those affected.
This type of software is known as scareware, false pop-ups on an adult or P2P sharing websites leave no stone unturned in informing you that your computer is affected.
Once you call up the number on the pop-up, the assistant will ask you to install an unauthorized program that will participate in fraudulent transactions and damage your computer.
Phishing
This is the process of sending an email to a user falsely by fraudsters claiming to be a legitimate enterprise, directing them to visit a website where they are asked to update their personal information, such as a password, credit card, social security, or bank account numbers, that the legitimate organization already has.
This act is to trick the users of such a website to surrender their private information that will be used eventually for identity theft.
The cloned website is done in such a way that it will capture and steal any information the user enters on the page and store it at the back end of the website (Database).
Spear Phishing
This is a replica of phishing; it is an email that seems to be from an organization, business, or even individual that you know very well.
Such emails are from the same criminal hackers that want to trick you to get your personal financial details such as bank account, credit cards, and passwords.
Pharming
This is a process by which scammers install malicious code on a server or personal computers such that they trick internet users into another fraudulent website that appears to be legitimate to the original one.
This will help them to obtain personal information such as passwords; usernames and account details of their target.
Pharming usually refers to as phishing without a luring.
Smishing
This is another type of phishing attack where the malicious link (Containing Hyperlink) or phone numbers is sent to mobile phone users in the form of text messages.
If such a link is clicked; it would lead the users to another website where they would be lured to divulge their personal information.
If phone numbers are employed instead of a link when such a phone number is called an automated voice response system or an operator that pretends to be your banker of ISP (Internet service providers or insurance agent.
The aim and their objective are to lure you to part with your personal financial information like your  Credit card details, Security Numbers, phone numbers, age, etc.
Vishing
This is another form of fraud that involves the use of a phone call from a fraudster.
They will call their victim to trick them into providing their personal information that can be used to access and use their accounts, such information retrieved can also be used to impersonate you so as to open a new line of credit without your knowledge.
==>Scam Alert: Bitcoin Doubling Scheme
The Ways to Avoid Scams Online
---
Now that you have a basic idea of what is a scam and how popular ones are ripping people off around the globe, it is time to familiarize yourself with a few steps that will guard you against even the most cunning traps. Here's what you need to do:
Investigate And Verify References
Knowing completely about your impending transactions or deals is vital before entrusting your personal data or money to a third party online.
Note and verify the actual address of the seller or supplier of a service an1d do not settle only for a P.O Box virtual chat or other care services that focus solely on the Internet.
Surf the web and look for reviews (comments, ratings, complaints, etc.) from others about the provider. Make sure that you evaluate the seriousness and reliability of the service that you are trying to hire.
Never Transfer Money To Strangers
Scammers often ask users to transfer money through western union or other online applications. The recipient accounts are usually from a different country, and the money trail is really hard to trace.
When faced with such a situation, it is always very important you don't make the move unless it is a well-established company. Unknown individuals are always a threat in such cases.
Check Your Statements Carefully
Cyber-criminals seeking to steal data from your bank accounts will surely misuse your cards. In the same way, unreliable companies can generate undue charging for their services or products.
Reviews the status of your accounts periodically and analyzes the movements and keep a track of the costs incurred with your cards.
Decline Messages Requesting for Personal Or Financial Information
If you ever end up receiving an email or an SMS asking you to verify your bank information by clicking on a link, watch out! Masquerading as your banking agency, or other financial entity, scammers are basically using a false argument to get your information and access your account.
If you have received these messages in the past and have questions, contact your bank directly or visit one of their offices to verify that everything is in order.
Remember, no bank is ever going to ask for your passwords or PIN codes through emails or SMS.
Be Extra Careful Online
You will need to be careful about your online presence, how much of your information is out there that can be put together to scam you?
The level of your security online will depend on how to save you keep your information.
If you receive a mail informing you of winning a jackpot, why would you click the link if you did not enroll in any lottery?
Any mail in your inbox instructing you to take a step such as clicking a link and you knew nothing about the sender you are NOT supposed to click.
You rather delete such mail to avoid being scammed. Therefore you must be very careful online.
Choose Your Password Wisely
What is the nature and configuration of your password? Are you using the same password for the entire site you visit or you have a variation of them? If it is either of these, you can easily be hacked online.
It is recommended that you have a different password for every website you visit; the makeup of your password should include random letters, numberings with a special character.
And ensure you employ good anti-virus software and it should be updated regularly as at when due.
Security Software (Antivirus), Updates and Patches
And ensure you employ good anti-virus software and it should be updated regularly as at when due.
This security software should be updated as soon as you receive an alert from the security vendor that it is time to do the update.
It is key to have good security software and it must be updated regularly to protect your property online.
Regular Updates of Websites Plugin
It is very key to always update your website plugins, most especially the WordPress website plugins. This is one of the best ways to protect any website from being hacked.
Any unused website must be completely deleted, and it is important to know the authentic source of any website plugins before installation.
Always Ask Question Before Acting
Always ask those important questions, did I use this email for this social media? Do I advertise using Facebook, Twitter, Instagram, etc?
I am expecting money from this person? Did you join that program?
If your question is NO, then all you need to do is just delete any unwanted and unrelated messages in your inbox.
The rule is that as long as you are not greedy you cannot be easily be defrauded.
Romance Dating Scams
What is a Romance scam?
A romance scam happened when a criminal assumed a fake identity online to gain the trust and affection of their victims.  
The scammers will then adopt the deception of being in love and a relationship with you to manipulate and steal from/their victim.
Many people decide to engage in dating Apps and social media to meet and network with people. Many scammers use this medium to lure and manipulate people to get at them and steal their money. 
How Can You tell if Someone is a Romance Scammer?
These are ways to avoid Online Romance scams and identify them:
Any romance scammer will always ask you to do something on their behalf
They will always tell you they are in one problem or the other and they need money to solve problems
Also,the will pretend to fall in love with you as soon as you meet
They would always like to use text or email instead of using dating apps
How do you Outsmart a Romance Scammer?
So, how can you prevent losing money to a romance scammer? 
These are steps to outsmart and ways to avoid romance scams online.
You don't communicate with strange people; when you realize it, you must stop ASAP.
Discuss your friends and relative about your so-called new love online; they might give you great advice.
Search for related issues scam using the nature of the job you are dealing with as the keyword. You can learn what the Federal Trade Commission is saying about Romance Scam
Online Scams Frequently Asked Questions (FAQs)
How Can Online Scams be Prevented?
The best ways to avoid and prevent scams online are: 
Know that there are many scams online
Be sure you know the person you are dealing with
Never click any link, new pop-up windows, and suspicious text links. 
Do not open any email and attachment that you are not sure of the source
Always verify the identity of people you are relating to online
How can bank scams be prevented?
One significant way to avoid online scams is to prevent all unknown calls and text messages related to your bank information and never give out your bank details to anyone online or off.
How do Online Scams Work?
Email can come from different places such as a bank, social networking website, online store, etc. pretending to be from a legit source. The message or calls will try to deceive and lure you from releasing your bank information details, password, and card details so that you can gain access to your money.
How do you know if you are being scammed?
If the scammer contacts you out of the blue
Also. somebody you have never met before is requesting money.
If you, the scammers, ask you to pay in advance before the goods are delivered to you.
What do I do if I have been scammed online?
These are ways to protect yourself:
Monitors your credit 
File a police report to the authority.
Engage the Credit bureaus
Contact your bank and the credit card companies
What Information do Scammers Need?
The following are details of what any scammer needs to have to access to your identity:
Your date of birth and place of birth
Banking PINs
Card Pan Numbers, expiration dates, and Your security numbers
International Passport and Driver License 
Social Security numbers
Financial Accounts and your banking details
Online Business That Is Not Scam
---
Doing business online without scams is real, all you need to know is to do it with the right skill set and knowledge.
The Wealthy Affiliate program will coach you the right way with the necessary Internet skill-set you need to succeed online.
In Wealthy Affiliate, you are tutored to doing business online the right way,
when you join Wealthy Affiliate you will know what you need to make amazing profits online from the onset.
You will be taught how to come up with your niche (your own passion-driven area of business), you will learn how to develop your own website relating to your niche.
You will learn how to come up with killer content about your niche or multi-level market, you will be coached on how to drive traffics to your website and lastly, Wealthy Affiliate will teach you how to monetize your business online.
Your website will be fortified and protected from any break-in from fraudulent online scammers. See how to develop a free website here.
What do you think about the fraud and scams all over the places online today? Have you been scammed before? Feel free to drop your thoughts in my comment area, we can also learn from you.
Note: You must know that you can always contact me at Wealthy Affiliate, this is my Personal Profile.
Also do well to leave your comment as regard my most recent internet scams and how to avoid them on my review, for any question you might need help with. I will respond to you in no time.

Conclusion On Ways to Avoid Scams Online
---
Thanks for reading my article on ways to avoid scams online?
As we make technological progress, the Internet and data security threats are bound to rise accordingly.
To stay safe in the digital world, it's very important to keep yourself updated with the latest news and trends.
Why compromise when one simple click can possibly jeopardize your entire life's savings?
What do you think about my article on ways to avoid scams online? If you feel insecure, try contacting a security advisor or look for security products from a reputable vendor.
Related Articles
How to Avoid Scams and Fraud to Make Money Online Online – Video
It is great to meet you finally. John is my name, and I'm the owner of Amazing Profits Online. I am a Full-Time Affiliate Marketer at Wealthy Affiliate, a community that teaches anyone to earn a full-time income online with their own passion-driven online business. No Credit Card Is Needed. It is FREE to Join. You can also Click here to get to know more about me.