You are welcome to my Monat Market Partners Review.  I am glad you are here to find out how to make money with Monat. 
It is good to find out stuff online these days because of so many scams. This was how I discovered how to make a full-time income blogging about my skills while helping my audience online. 
But is Monat legit or scam? Or is it a pyramid scheme? 
Please know that I am not in any way associated nor affiliated to Monat Global; therefore, expect a neural and unbias review with this article.
Please read on. 
Must Read Articles:
Monat Global at a Glance
---
Name: MONAT Global
Industry: Cosmetics and Personal Care Products
Year Founded: 2014
Headquarters: Miami, FL, Florida, USA.
Founder: Luis Urdaneta
Products: Hair and Skin Products, and Pet Products
Price: $99 sign-up fee and $49.99 subsequent annual fee
Rating: 15%
Recommended: No
 Summary of Monat Market Partners Review
---
 Monat Global is is a legitimate company with great product skincare, hair, and pet based products. 
Monat Global runs a multi-level marketing-based business model that many is mistaken to be a pyramid scheme in nature.
The Monat business model is not favorable to its Monat Market Partners (distributors). With the different levels of the compensation plan, it is the Market Partners at the highest level that earn the most.
The topmost level of Monat compensation comprises of the owners of the business, the early joiners, the investors, very few hard workers. 
The question is this, can you make money with Monat as a Market Partners? 
It will be extremely difficult for you to make money as a distributor and Market Partners of Monat, most especially if you are just starting. 
You can no more find the income disclosure statement of Monat Global in the public domain because it is the only source of truth. 
The last Income Disclosure Statement was in 2017, and it was a very bad one for the lower level Market Partners. 
The average monthly earnings of the lowest rank (i.e., Market Partners) was $87. 
The managing Market Partners follow with the average monthly earnings of $418
While the senior executive director (Topmost level) earns $107,0000
Follows by Executive Director that earn $34,000
It can be hell before you get to the top of the scheme to earn better pay as a Monat Market Partners. 
My Recommendation
But, note that you can still make money promoting multiple products for thousands of companies online. 
It is called affiliate marketing. You can start this affiliate marketing certification program now. Level-1 with Ten lessons is FREE to join. No credit card is needed to go through the training. 

This company provides training and tools to start your online business. You have all the tools, resources, and help you need in one place. Click here to learn more. 
What is Monat?
---
The words' Modern' and 'Nature' was put together in his proto training form 'Monat,' as Luis Urdaneta & his family broke off the Alvira Corporation in 2014 after finding success with hair care products that emphasized natural products. 
The new company claimed that it could give products that would provide energy and nourishment for better hair growth with ingredients like essential oil blends with a concentration of omega fatty acids and plants. "
This romance between this haircare product and market blossomed exponentially till complaints trickled in towards Monat Global.
The problem arose against the company's claim that the products were made using unique processes that protected the scalp and hair from oxidative stress, and boosted its regeneration abilities—instead, the now popular Monat Global's line of shampoos.
Conditioners and sprays were the highest common factor in a growing list of strange cases of hair loss, in people that used the products to prevent 'hair aging.'
It suffices to say that Monat Global has not yet recovered from the debacle. Read more about Monet Global on Wiktionary.  The question is this, can you still make money with Monat?
Monat Product Line 
---
Monat products range between different hair care products, skincare and Shampoos, and varieties of conditioners hairstyle treatments of various types. 
To make money with Monat. you have to come up with strategies to know how to sell all these products. They are as explained below:
Monat Hair Care Collections
Monat Global has a variety of hair care products, including shampoos, hair sprays, and even hair repair treatments. Of their haircare line of products, the 'Rejuveniqe Oil Intensive' is the most distinguished. 
The bottle of oil is priced at $99 per 30-ml bottle, which is luxurious compared to other hair products, but that's the flagship product of the company, so the hype is natural.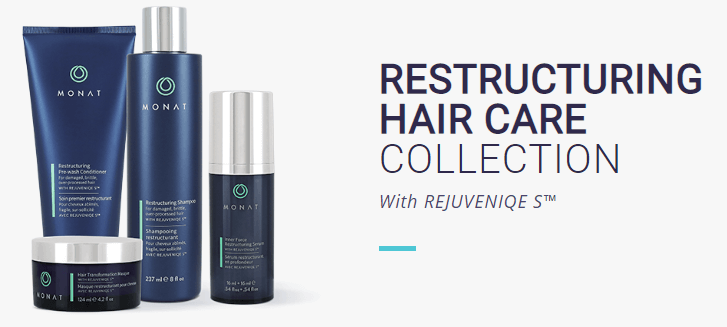 The Rejuveniqe Oil Intensive is said to be made from more than 13 natural plants and blends of essential oils rich in omega fatty acids to enrich the hair and improve the regenerative and resilient abilities of the hair. 
Apart from the Rejuveniqe Oil Intensive, however, there's no reason for the other products to be as expensive as they are. 
The Renew Shampoo costs a massive $35, and the rest of the products can be seen below. 
Monet Pet is exclusively botanical and blended oil that is made to soother and nourish skin and hair of pets that is aimed to make their hair look healthy and shiny. 
These Monat pet products are gentle cleansing that is aimed to cleanse and wash Dogs and other pets. The products are known for their freshness and Deodorizing spray nature. 
The Monat Pet skin products are made up of Sulfate-free mild cleanser that serves to thoroughly and gently clean pet dirt's. It grimes and oils their fur while it is softening the pet's coat hair. 
These are naturally powerful and clinically tested skin products. Dermatologists and ophthalmologists also approve the Monat skins products.  
The company claimed that the products are made from natural based ingredients. The products are said to be vegan and cruelty-free.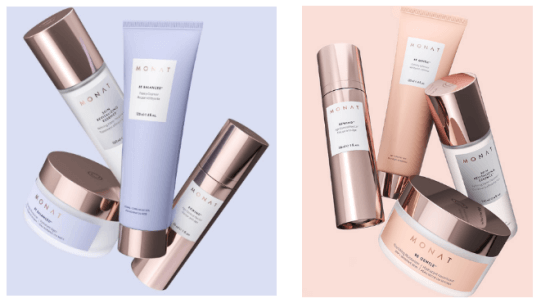 Monat contended that you should be assured that you are using safe and safe skincare developed products
The Monat skincare products are naturally based anti-aging that is formulated for all kinds of skin types.
They claimed that the products are created to optimize elasticity and texture that reduces the fine lines, wrinkles, and spot appearance when fully deployed and use. 
To be a successful Monat Market Partners you must read the Monat Policy and Procedure otherwise you will burn your hands. 
Monat Compensation Plan 
---
Monat Global's compensation plan is complicated to understand. But the only way to make money with Monat is to know all about the compensation plan. They want you to get that there are many ways to earn money as a distributor for Monat:
Monat Distributors get excellent packages for little achievements in the first few months after signing up as distributors. 
Retail Profits and Bonuses
Distributors earn a 30% commission on sales made at the retail price. Also, 15 cents from every dollar you get from the sales of Monat products to VIP members goes back to the distributor as commission.
Distributors can also earn from referrals that get prospects to enroll as VIP members. 
Distributors are promised good bonuses for progressing in ranks and building your team. 
If not for the new ocean of lawsuits and complaints, Monat Global's products would have more money-earning opportunities than it currently does.
With the bad Reputation the company and its products have at present, it is difficult for the distributors to move the products, and since the Monat Compensation Plan is based on sales, money-making is a challenge at Monat. 
How to Become Monat Market Partners
---
All you usually need to join most MLM businesses are your membership registration fees and even more money to buy products monthly. This is one big way to make money with Monat as a distributor. 
This is how to become a Market Partner with Monat. Monat Global has four different plans that distributors can start with, with more perks predictably offered to more expensive programs.
They are:
The cheapest product package that has a provision of roadmap, brochures, and workbooks to help the distributor through his/her new responsibilities.
The cost is $99 in the US, while this fee is 125 Canadian dollars.
This product package includes products including hair conditioners, shampoos, and other nine full-sized products and 56 other products valued at $500 retail price and $300 at wholesale for the distributor. 
This is an upgrade on the Business package with 17 full-sized products – now including hair masks – instead of 11, and 80 other products compared to the Business package's 50.
Thus, the distributor that invests in the success package can earn a 46% savings where the Business package assures of only 40%.
This the most expensive product package a distributor can opt for as a new affiliate with Monat. 
In exchange for the compulsory fees, you are given 70 full-sized products and a hundred other products and the product brochure. 
The packs are valued at $6,490, which is close to half of the retail price of $1,299, which is a massive proposition for the Monat Market Partner.  The above is the only way to become a lead Market Partner with Monat.
Monat Market Partner Requirements
---
The list below is Monat Market Partner Requirements that must be fulfilled before you can qualify to work as a distributor to Monat Global.
For you to become a Monat Market Partner, you must:
You must be of 18 years of age and above or age of majority as stipulated by the law in your state or region.
Ensure you reside in the United States, Canada, or any country that Monat is currently present and open for business.
Provide you're your valid social security ID or Federal Tax Identification Number
Purchase your Monat Starter Packs/Kit (This is optional for North Dakota Residents)
You must submit your completed Market Partner Application and Monat Market Partner Agreement in either soft or hard copy.
It is advisable to go through the Monat Policies and Procedures/Monat Market Partner Agreement before joining Monat as Monat Market Partners. It is some hoe difficult to make money with Monat with these many requirements.
***Please note that Monat reserves the right to reject your applications as a New Monat Market Partner***
The Monat Market Partner Packs?
---
Your Monat Business Product kit is made up of the following:
There is a stand-alone Starter kit is made up of 35 samples products

Success Product kit has 56 sample products

Overachiever has 70 sample products. 
These products are to be shared with friends and family to aid more referrals to the company to get more markets, partners, and distributors. You have to purchase this pack to make money with Monat. 
The Cost to Join Monat
---
Monat Market Partner has the option of buying a product package out of the four packages depending on their budgets.
Monat Market Partners that opt for the starter pack only must pay the start-up fee of $99 (This fee is $125 in Canada)

Business Package costs $299, 

Success Package costs $399 and the 

The overachiever package costs $699 minus the start-up fee. 
All Monat Market Partners must pay the $99 start-up fee, so the distributor that opts for the Business, Success, and Overachiever package must also pay $99 in addition to the product package costs. 
All Monat Market Partners must also pay $49.99 every year to keep their Monat membership active. 
You will get a Monat Starter Kit that consists of marketing and training material with many products that you can share with friends and family.
Note: You must be very sure to spend the above cost before you can make money with Monat.
Who Is Monat Market Partners For?
---
Monat Market Partners is for people that are ready to market multi-level marketing products.
You must be hardworking and ready to go extra miles to engage people, and also will have to engage your friends, family, and neighbor. 
You cant be a shy person if you are to make money as a Monat Market Partners selling multi-level marketing Monat skin and hair products. 
How to Make Money with Monat
---
By the nature of the businesses, there are two ways to make money off all MLMs; through multi-level marketing sales and commissions. You need to go through the latest Monat Compensation Plan 2019 on Monat Global website.
To make money from Monat and as a Monat Market Partner, you have to sell 200 PV (personal Volume) of Monat product every month to be active as Monat Market Partner.
Every active Monat Market Partners will earn a minimum of 7% commission on every sale according to the Monat Compensation plan.
There are some MLM companies where your goal should be in ranking up as quickly as possible, while that is not too different from Monat; the compensation plan of Monat shows something interesting.
When it comes to sales, retail sales to customers earn you 30% of the total price as profit and half of that profit if you're selling to a VIP customer.
That profit margin is too right to not direct a lot of your focus to. Unfortunately, the scandals and controversies have cast a cloud on the company that discourages buyers from placing their faith in the product.
Monat has many incentives created to keep Monat partners motivated by the business opportunity.
These commissions are programmed to increase when you increase in rank, but you can earn from the activity of people you recruit anyway.
The more people you have in the levels under you, due to the people you sponsor further recruiting other people, the higher your commission gets, and the greater the number of levels you can reap from.
You can also earn group volume bonuses and 'generation' bonuses, all of which largely depends on how devoted the partner is to making sure his group sales volume and personal sales volume are as high as possible.
How Much Can You Make with Monat?
---
Earnings from retail sales are definite; it entirely depends on how many products you can push out, as the 30% – 15% discount simply becomes your profit.
Earnings from commissions depend on these sales but are harder to predict nonetheless.
The central requirement for earning from commissions is by moving up your ranks and making sure that your downlines sell enough Monat products.
If the distributor can hustle to the top level, the commissions you receive all sum up to 29% in the way of bonuses collated from the members in your downline.
Monat Global partners also earn 2% overriding bonuses from all levels of their downlines, except for sponsors that have reached the 'Managing Market Builder (MMB)' rank.
Even for such Monat members in your downline that make it to the MMB rank (called Monat Generation), you can still earn 'generation' bonuses from the activity of such a downline member.
Ultimately, the distributors cannot do any of these if their accounts are not active, and keeping it busy requires a monthly expenditure worth 200PV.
Are Monat Market Partners Making Money?
---
MLM companies are always afraid of disclosing their incomes because that is what exposes the impossibility of earning through a Multi-Level marketing system.
In Monat's Income Disclosure Statement and the 'Statement of Typical Participant Earnings' portion of the Monat Compensation Plan, there is vague information on annual earnings expected for the average partner, which makes up more than 60% of people in Monat.
Instead, they are more given to declaring the average incomes for people at least at MMB level.
Yet, they made a mistake, as any eagle-eyed reader will point out that the average earning for people at such an elevated position is $1,188.
By the time the expenditure and expenses are outlined, there will be few distributors that have crossed over to the earning faction, but most people will sadly have nothing to show for it.
Why It Is Difficult to Make Money with 

Monat
---
Monat Global is made effective by its network marketing strategy to extend its marketing responsibilities to people through customers. 
People readily let it continue like this. 
They are unaffected by the company squeezing their efforts and money from them; they choose to squeeze the money back out from their downlines. 
Also, the rivalry becomes thicker because they compete for places with other distributors trying to reach out to the same crowd that they are trying to reach.
Monat Market Partner Benefits
---
Are you ready to build a business with Monat Global direct sales company that you can call your own?
The company promised a lot of benefits, and business opportunities for all its distributors called Monat Market Partners.
As soon as you join and become a Monat distributor and Market Partner with Monat, the first benefit of being a Market Partner with Monat is to learn how to grow an active direct sales agent to Monat Global.
You will have access to the following:
This is the smartest way to practice what you are learning in your first few months of your enrolment as a Monat

Market Partner. You can call it the "Smart Start Period, "; which will happen in your first three months.
It is a workbook based and contain detail information about Monat products and system that is available for your success.
The Smart Start Roadmap will help you get up to an excellent start with Monat Global as a Market Partner.
Market Partner Academy
This is the training department of Monat Global. It is an online base and very interactive.
It is said to have excellent training and interactive modules with proven techniques that will help you build your team.
***Other Benefits of Being a Market Partner with Monat***
Access to your Monat Product parks within your first 30 days
Your replicated e-commerce store website already enables for easy ordering
30% commission on every one of your retail sales and 15% commission on VIP sales
You enjoy free shipping for every order of over $84
If you later join the flex-ship program, you will be getting the monthly gift of Monat products that worth $25
Your customer will order directly from Monat; you don't need to keep inventory.
You will have access to flash sales of over 64% off the Monat products pricing (BOGO Deal)
Access to Market Partner incentives and promotions
You also have the opportunity to join social media Monat group online such as Facebook and YouTube (Kendall Welden and Jewelry Stephens)
Opportunity to win WHITE CADILLAC when you hit Market Mentor level of the compensation plan.
You will also buy products from yourself, helping you to make more earnings.
Many great prizes and trip incentives whenever you reach your goals
You also have the opportunity to explore other sales territories, both locally and nationally.
Monat Customer Service and Support
---
Below are different ways to contact Monat Customer service and support help desk. This includes both Emails and Phone Numbers of Monat Customer Service 
You can reach Monat Global Customer Service on any issue via:
Monat Customer Service Phone Number: 888-867-9987
Email Address: monataccess@monatglobal.com
Live Chat: 

Monat Live Chat 
***Products and Services Inquiries***
Monat Customer Service Email: productquestions@monatglobal.com. 
***Monat Global Customer Service Email Addresses***
 Product Ingredients and Usage: productquestions@monatglobal.com
 General Support: monatsupport@monatglobal.com
 Media Inquiries: media@monatglobal.com
 Ideas and Gratitude: gratitude@monatglobal.com
 Inquiries on Recognition: recognition@monatglobal.com
About Monat Logo (Trade Shows): brandguidelines@monatglobal.com
 Inquiries About Home Office Visits and Tours: toursusa@monatglobal.com
***Monat Market Partner Customer (Service Hours)***
 Monday to Friday: 8 AM – 11 PM EST
 Saturday: 8 AM – 5 PM EST
 Sunday: Closed 
***Monat Customer Service USA Mail Address***
3450 NW 115th Ave.
 Doral, FL 33178
You can also contact Monat Customer Service Here.
What is Good About Monat Market Partners Program
---
For a company so young, it's impressive that they have garnered so much attention, with most of it positive at first. 
Within a year after Monat's inception, the company already made up to $25 million for that year. 
The company had a bright future before the rain of complaints.
Good Reputation, Initially
For their fast growth, Monat was honored with a treble of awards between 2016 and 2017. 
They won the 2016 'Stevie Awards for Women in Business,' the 2016 'American Business Award,' and the 2017 'Direct Sellers Association of Canada's Award of Excellence.' At that time, it was rightfully deserved. 
Issues with Monat 
---
Monat's flagship product, the Rejuveniqe Oil Intensive, costs a massive $99, despite it's for a 30ml size.
The argument when it was flying off the hands of distributors was that it was made of the highest quality ingredients until the complaints started rose like a tide.
Most people revealed that this expensive bottle of oil expedited the hair loss process that they were not even going through yet.
There are some online comments that the oil used to triggered adverse reactions like scalp issues, itchiness, and other discomforts in many users.
Terrible Structure for Monat Market Partners
If the company had a more organized structure, they might have been able to stem the tide ever since, but it gets worse because of their faulty systems of operation.
Official complaints on Monat reveals that they don't have good enough customer service cultures, so they refuse to answer to appeals of customers looking to cancel their auto-shipments or even just making inquiries.
What's worse is that these issues have persisted for the past four years and are still subjects that Monat's leadership has not taken care of.
Ocean of Complaints and Lawsuits
Any novice at business understands how terrible complaints and lawsuits can be for business, but it seems Monat's managers think the complaints and legal issues help their cause in some way. 
There is no other explanation for the lack of decisive action in ensuring that changes are made to stem the influx of complaints by making the restitution during manufacture and in their support system. 
In the first quarter of 2018, Monat Global faced 689 complaints on the Better Business Bureau platform and five class-action lawsuits on the grounds of deception and fraud. Just terrible.
Is Monat FDA Approved
---
There are a lot of this question online (both in Monat on Reddit and Quora); " is Monat hair products FDA approved"
Please know that the FDA does not approve of cosmetics products, and that includes Monat skin and hair products. Therefore, Monat Global products are not approved nor certified by the FDA.
However, Monat most meet the FDA requirements under law in the production of both of their skin and hair products.
Some Monat Market Partners are used to informing the public in their sales pitch that Monat is FDA approved.
This is a false claim; the FDA does not approve cosmetics.
In 2018, FDA visited and inspected Monat Global Florida facility, and the result of their visitation was not too good though Monat downplayed it.
Monat-FDA-Inspection-Report visit to Monat Global Facility here. It is an FDA Monat Visitation report in PDF format.
The FDA observed that Monat product was done under an "insanitary conditions" See the screenshot of FDA report here.
Source: Monat's Food and Drug Administration (FDA) Inspection Report PDF Format
Monat always stated that the company is committed to the requirements of the FDA, and for the production of all their products, they said that their products are safe and effective for all their customers.
Online Complaints About Monat 
---
The social media is awash with complaints against Monat Global. 
The Monat complaint ranges from inadequate customer services to many cancellations of membership problems.
See the screenshot of some of the complaint below: 
Source: The Wall Street Journal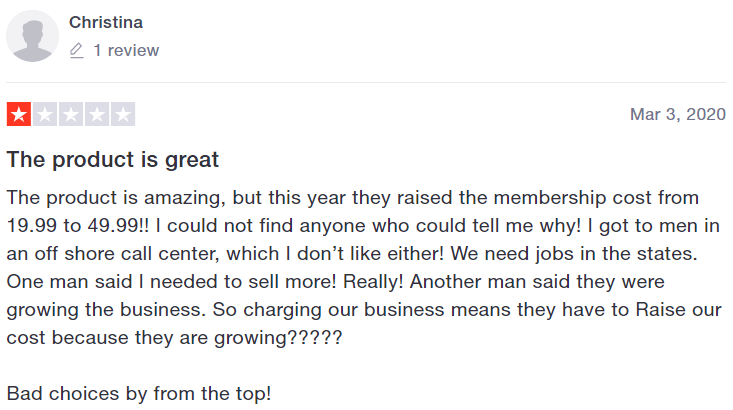 Source:  Trust Pilot
Monat

BBB Rating

Reviews

Is "A"
---
Monat has one of the worst Better Business Bureau pages in terms of reviews despite the BBB ratings of "A."
The complaint tally keeps rising every month with no signs of slowing down, and it is not accredited by BBB, perhaps, as a result. 

From its tally of 689 in 2018, the complaints have risen to 1,023 as at the time of writing this review.  
I can not imagine how Monat can get BBB ratings with the level of an online complaint by bothering their formal market partners and various customers online. 
Are Monat Products Overpriced?
---
Yes, Monat products are overpriced. This is why it is tough for the Monat Market Partners to sell the products. 
It was over prize because of the several sharing of the commission that is involved at different levels of the compensation plan. 
It essential to state that the products are great for your use but very costly for average buyers juts because of the commission that has been shared by several Monat Market Partners at different levels of compensation. 
How to Cancel Monat Market Partners
---
As a Monat Market Partner, you have the right to cancel your membership at any time of your choice, without any reason. Still, you should be ready for the trouble that comes with the cancellations of affiliation with Monat Global.
This is a step by step process on how to quit Monat market partnership.
Your cancellation can only be made in writing, yes you have to write to cancel your Monat membership. You have to write to the company's principal business address.
Your cancellation notice must include the following:
Your Name,
Signature
Address, and
Your Market Partner ID Number
Please mail your Monat Global cancellation request to 3450 NW 115th Ave. Doral, FL 33178.
Note that you can also cancel your Monat Global Market Partner membership voluntarily just by declining to renew your Monat Market Partner Agreement on the anniversary date.
The Monat Global as a company can also decide not to renew or even cancel your membership if it is discovered that you go against the Global Market Partner policy and procedure.
As soon as your membership is canceled either way;
You instantly lose the right to promote and sell MONAT products
No reason to receive your future commission, income or bonus
You automatically waive the right to your remuneration from sales and several of your formal activities.
Monat Policies and Procedures about all you stand to lose whenever you cancel your Monat Marketing partner membership.
Monat Hair Products Lawsuit
---
For a six-year-old company to have faced more than six class-action lawsuits is remarkable enough, but that five of them were filed against Monat in the space of two months is truly impressive.
Most of these lawsuits are the "Monat Hair Loss Lawsuits."
The list of the Monat hair lawsuits are highlighted below with dates:
***Monat Global Vs. Vickie Harrington***
Date: January 2018
Plaintiffs: Monat Global Corp.
Defendant: Vickie Harrington
Lawsuit Amount: $225,000
Complaint Doc. PDF DownLoad
***Trisha W and Emily Y. Flores Vs. Monat Global***
Date: February 2018
Plaintiffs: Trisha Whitmire, Emily Yanes de Flores
Defendant: Monat Global Corp.
Lawsuit Amount: $5,000,000
Complaint Doc. PDF DownLoad
***Monat Global Vs. TONI MILLER***
Date: February 2018
Plaintiffs: Monat Global Corp
Defendant: Toni Miller
Lawsuit Amount: $225,000
Complaint Doc. PDF DownLoad
***Dana Sohovich Vs. Monat Global***
Date: March 2018
Plaintiffs: Dana Sohovich
Defendant: Monat Global Corp.
Lawsuit Amount: $5,000,000
Complaint Doc. PDF DownLoad
***Bottalico Vs. Monat Global***
Date: April 2018
Plaintiffs: Kelley Bottalico
Defendant: Monat Global
Lawsuit Amount: Not Yet Set
Complaint Doc. PDF DownLoad
How to Join Monat Class Action Lawsuit
---
Do you know that the class action lawsuits against Monat and also Monat 's lawsuits against their critics can be merged? This is a common practice that helps consolidate resources.
Do you know you can join the Monat Class action lawsuit?
But is it worth it to join the Monat class action lawsuit?
For most people, the answer is no, why others will not mind the money.
A class-action lawsuit will allow a group of MONAT Global Hair Care Products to come together. Monat customers with bad experience either of hair loss, rashes and bald spots, etc.
Joining the Monat class action lawsuit implies that you are eligible for compensation, but you have to waive your right to file a personal suit against Monat Global.
Be sure you have enough proved and evidence of your injuries of using Monat products before you exclude yourself for class action lawsuit; then, you will need to go it all alone.
In a class-action lawsuit, there is strength in numbers, and that will help. It will imply the consolidation of all the evidence of Monat customers and clients that are involved.
You should know that most class-action lawsuits can take up to three years to be resolved; therefore, prepare to go it all alone.
Federman & Sherwood is currently collating for Monat class action lawsuit and you can also know the available class action lawsuits on the Consumer-Action website.
Is Monat a Pyramid Scheme?
---
Monat Is not a pyramid scheme but an MLM company that is distributing and selling legitimate hair care and skin products. Monat Global is a company that many people like to hate because of many issues. 
There is a lot of online and offline complaint about Monat products. These several complaints are coming both from the consumer and the Monat market partners. 
Complaints are ranges from bad products, 

Products not serving the purpose of which it was bought 

Bad customer services 

Monat Market Partners not been able to cancel membership

Card cancellation issue after product subscriptions

Etc.
All the above bad news does not make Monat or Monat Global as a company running a pyramid scheme. The Monat business model is the wrong one for me and, i.e., Multi-level Marketing. 
80% of distributors working with any company with the MLM business model will not make money. It is only the people at the top of the scheme that you will be working for. 
This is why 99% of companies that run MLM business models are always mistaken for operating a Pyramid scheme.
Why is Monat not a Pyramid scheme business? Because they deliver what they promised. 
When you buy the company products either online or offline, they provide the product to you (Even if the product turns bad or makes your skin go blue).
In a pure pyramid scheme practice, there is no product and service involvement. You are paid from your referral subscription for a program without any product. The people you refer will also get paid for people they see, and it goes like that. 
Is Monat Legit or Scam? 
---
Monat is a legitimate company with a very excellent product line that is embraced globally. They have a lot of complaints online, and the company has a couple of lawsuits at the time of writing this review.
The company products are too costly, and you can see a lot of such complaints everywhere and online. 
The challenge with the company is the multi-level business model that always reward the people at the top of the scheme rather than equal rewards. 
You will earn pennies and as a Monat Market Partners while working for the people at the top of the pyramid scheme that makes significant revenue annually. 

The bottom line is that Monat is not a scam but a legitimate company because they deliver what they sell to the Monat Market Partners. 
How I Make Money Online. . .
---
I am making money via affiliate marketing with this Website.
What is affiliate marketing? It is a process of helping companies, and people sell their products and services.
If I review a product and some search for it in Google and visit this Website (Just like you did), if you later click any of my links, e.g., My Amazon affiliate link. If you buy anything on Amazon, I will get a commission. That is affiliate marketing.
With affiliate marketing:
You can promote thousands of products and services
None of the companies or people I promote their products can revoke my services because I am promoting my Website.
You can decide which of the products and services to promote
Work once (Review products) and continue to earn even while I am sleeping (maybe I am sleeping while you are reading this).
I have multiple websites with different niches (focusing on a different audience)
How can you start something like this?
Easy, start this affiliate marketing certification training. Level-1 with ten lessons is FREE. No credit card is even needed to join.
You have all you need to start making money online.
You will be taught how to create your Website and do everything you see on this page by yourself. And I will be around to help you. Click here to learn more.
Monat Market Partners Vs Wealthy Affiliate
---
Is Monat Global Worth It?
---
What do you think of my Monat Market Partners Review? Are the Monat Market Partners making money? 
This article focus on answering many questions about Monat Global. Questions such as:
Do you think you can make money with Monat?  

Do you feel that Monat Is a pyramid scheme?

Is the Monat Legit or scam? And many more questions were answered. 
So, Is Monat worth it? Monat products are lovely and very great, but you may not make money as Monat Market Partners if you are not at the top of the scheme and not extremely hard working. 
Monat is only suitable for market partners and distributors at the top of the so-called pyramid scheme. This is why many refer to Monat as a pyramid scheme run company.
There are also many complaints that Monat products make them lose their hair and so many other complaints about Monat products. 
 If you are not convinced of a product's safety, how can you recommend it to others? 
Also, you must know that MLMs thrive on customers willing to spend on their products. If you are not interested in hair and skin products, you should stay away from Monat. 
You must also be ready to pitch to your family, friends, and neighbors to make sales.
The good news is this; you can now make money with Network Marketing products from different companies via an auto sales funnel. 
This funnel will help you get involved in selling thousands of products from multiple companies all at the same time.
What do you think about my Monat review? Can you make money with Monat?
You will learn to set it up by yourself, and the platform will be forever yours, and you can even sell it off at 10X of your investment. Read more about it here. 
Relevant Article:
It is great to meet you finally. John is my name, and I'm the owner of Amazing Profits Online. I am a Full-Time Affiliate Marketer at Wealthy Affiliate, a community that teaches anyone to earn a full-time income online with their own passion-driven online business. No Credit Card Is Needed. It is FREE to Join. You can also Click here to get to know more about me.