You are welcome to my Modere MLM review. Can you make money with Modere MLM jobs? Will you make money as a Modere Social Marketer? Is Modere a Pyramid Scheme? Or, Is Modere MLM legit or a scam?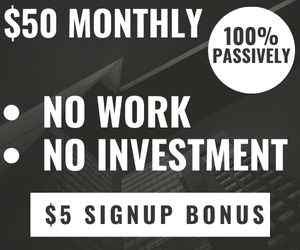 I am sure you are doing your investigation on how to make money with Modere Inc jobs. You can discover legitimate online business and avoid scams this way.
Please be sure that you are in the right place, and you will get answers to all your questions with this review.
Please keep reading. 
Must Read Articles
Modere MLM Job at a Glance
Product Name: MODERE (Formally called Neways International)
Industry: Direct Sales (MLM)
Year Established: 1992
Headquarters: Springville, Utah. USA
Founder: Thomas and Leslie D. Mower
Price: $49.99 Plus (Monthly Auto-Ship $199.99-$699.99/$99.99-$149.99)
Rating: 25%
Recommended: No
Summary of Modere MLM Job Review
This is a privately owned Multi-Level marketing, that is based in Springville, Utah. The USA. Modere MLM was formally called Neways International.
This organization is into the manufacture and sales of nutritional supplements, household cleaning products, and personal care products. 
The company is currently in over 23 countries. 
Is Modere a pyramid scheme? Or, Is Modere MLM legit or scam?
The vital question is this, can you make money with Modere MLM jobs?
The problem with Modere MLM and why you can not make money with Modere Jobs is its business model. It is run as a direct sales company.
Why is that a problem?
Why Most Modere Social Marketers Are Not Making Money
It is a problem for the Modere social marketers. Why?
Jon M. Taylor (President, Consumer Awareness Institute and Advisor) sighted in his book "Multi-level Marketing Unmasked "; that 99.7% of people that join MLM or direct sales company will not make money. i.e., 0.3% of any people that join MLM will make money. 
What is the interpretation of this statement? MLM will only reward the people at the top of the scheme. 
The people at the top rank ( the 0.3%) are the company's owners, the early joiners, and the selected investors?
Is this assertion true for Modere jobs? 
To know if this is true for Modere MLM, we will look at the Modere Income Disclosure Statement for 2019. 
You can see that 16.24% of active Modere social marketers made an average monthly income of $66.84 in 2019 while only 0.06% of the active Modere social marketer earn an average monthly payment of $70,397.14.
Note: What happens to nonactive Modere Social Marketer? 
Considering the Starter Kit cost of $49.9 and monthly auto-ship, it is clear that the Modere social marketers are making loss monthly. 
But, who are the Modere Social Marketers that constitute 0.23%? These are the owners of the company and the people at the top of the MLM scheme.
It is why you may not make money if you are joining the Modere social marketer; you will only be working for the people at the top of the scheme.
My Recommendation 
Do you want to make money online? If your answer is yes. 
The way to make money online in the 21st century is to find a way of helping people. You can turn your passion and interest in making a full-time income online. 
Did you land on this page without knowing me? It is call attraction marketing. 
You can create your profitable website and attract your audience to your platform without knowing them. It is about solving a problem that people are searching for via various search engines. 
You don't need to run after your family and friends to sell MLM anymore.
Just work once and start earning for a long time with your website.
You can now attract people that need your help. 
You can partner with thousands of companies like Amazon, eBay, Google, Yahoo, Bing, etc.
Start this affiliate marketing certification training now. Level one of ten lessons is FREE. There is no need for your credit card for this training. Learn more here. 
What is MODERE?
Since it has become quite hot on Facebook & Twitter, chances are you may have come across some of their Modere Social Marketers?
It only makes sense that you find out about what you are getting yourself into, and this review will do just that.
It is a privately held multi-level marketing (MLM) company that manufactures and distributes personal care products, nutritional supplements, and household cleaning products. 
The company started in the United States, founded by Thomas and Leslie D. Mower in 1992, and has distributors in more than 23 countries.
 The company claims that its products are chemically safer than other competing brands.
Please know that Modere Inc is a re-branded company originally called Neways International. 
It looks like the rebrand was necessary to get away from a dirty past.
 The rebrand was complete and almost buried its history. 
There was a complete change in ownership, management, branding, styling, pricing, growth strategies, brand name, business model, and compensation plan.
The company was officially launched in February 2014, but the parent company, Neways, was founded in 1992 until Z Capital acquired it in 2013. 
It is available in the U.S, Europe, Japan, Australia, North America, New Zeeland, and other countries. You can learn more about Modere Inc on Wikipedia.
What do you think of my Modere MLM review? Is Modere a pyramid scheme? Do you think Modere is legit and not scam?
Modere Inc Product Line
This company that focuses on healthcare and wellness. 
Its product line includes the following: 
Health & Wellness
Personal care products
Nutritional supplements
Collagen chews & drinks
Household cleaning products
One of their flagship health & wellness products is the M3 Formulation series; a unique formula was created to help consumers improve their overall health and weight. 
The regimen involves taking three supplements and making three lifestyle changes. They also have an extensive list of products.
Modere Compensation Plan
This is an overview of the earnings associated with being a Modere Social Marketer. 
You can get the full details in the compensation plan PDF. It's ranking system is split into two; Promoter and Builder.
Promoter Ranking System
Here, your commission is calculated based on the number of active customers you have who have subscribed to It's Smartship program and make purchases. 
The bonus begins with a minimum of 5% for the lowest promoter and about 30 for the highest. 
The rank includes;
Promoter
Bronze
Silver
Gold
Platinum 1
And, Platinum 2
Platinum 3
Builder Ranking System
This ranking system is based on your recruitments and how you build your teams. 
Each of these ranks requires a specific number of positions to grow and earn more bonuses and commissions.
Consultant 
Senior consultant
Team Leader
Senior Team Leader
Director, Director 2
Director 3
Elite 1, Elite 2
Elite 3
There are numerous bonuses and commissions you can earn with Modere. 
An example of such a bonus is the Retail bonus. 
Regardless of rank, all Modere Social Marketers earn a 15% bonus on products sold at suggested retail prices. 
Other bonuses include;
First Order Bonus
Team 3 Bonus
Lifestyle Consistency Bonus
Elite Team Lifestyle Consistency Bonus
Dynamic Team Leader & Director Bonus
4 & More Builder Bonus
Sharing Bonus
Consistency Selling Reward
Leadership Development Bonus
What do you think of Modere Jobs and the compensation plan? Is Modere MLM Legit or Scam?
How to Become Modere Social Marketer?
The first step is to use the website to sign up.
After signing up, the first thing you have to do is choose your Modere Social Marketer Kit (which costs at least $49.99). 
The next step involves choosing your standing monthly order, of which you have five options to choose from, and most of them cost $99.99.
How Much does it Cost to Join Modere MLM Jobs?
Joining the company as an affiliate/social marketer costs $49.95. 
The fee only covers some training and materials to get started but does not include any products. 
Social marketers still need to purchase a $399 Builder Collection Package.
Although purchasing the pack is not compulsory, you cannot build a business without the builder package since it consists of products you will promote. 
Who Is Modere MLM Jobs For?
$400 is still quite a lot of investment for someone who wants to make money through a passive means. 
If you cannot afford to invest the money, time, and energy into the business, you are better off saving your money.
How to Make Money with Modere MLM Jobs
Just like other MLM companies, works on the principle of recruit new members or sell more products. 
To earn commissions and bonuses with Modere Inc, you have to build multiple teams of social marketers, promote products, and recruit new members.  
How Much Can You Make Selling Modere?
Your earnings depend primarily on your efforts. 
Modere jobs will provide you with all the tools needed for promoting their products, but your earnings depend on how much work you sell and how many people you recruit.
The income disclosure statement for 2019 shows that 16.24% of active Modere Social Marketers earn an average monthly income of $66.84, why 0.06% of Marketers make an average monthly payment of $70,397.14.  
You are considering the monthly auto-ship and starter kit cost of $49.9. Most Modere Social Marketer made losses in 2019. 
If you are just joining, it highly likely that you will not make money with Modere MLM job. 
See the Income Disclosure Statement below:
Modere Income Disclosure Statement for 2019
This goes to show how low paying the venture is for newbies into the system.
Are Modere Social Marketers Making Money?
From the data revealed by the 2019 Modere income disclosure statement, the answer is No. 
About 75% of Modere Social Marketer made no money in 2019. Most of them were categorized as no-active marketers.
The people who profit more are those at the top of the ranking system and the company itself. 
Modere MLM Support /Customer Service 
The company is located at 588 S 2000 W Springville. 
You can reach their customer care via phone call on 877-MODERE-1 (877-663-3731). 
You can also send an SMS via the same number. 
Emails can also be sent via service@modere.com.
What is Good About Modere MLM Jobs?
Remote Work
One advantage of the company over many traditional MLM companies is that Modere Social Marketers do not have to rely solely on face-to-face selling. 
Marketers can promote the products through social media and follow up leads in a more passive way. 
There are also automated online systems to generate leads and potential customers more efficiently. 
Despite this, recruiting is still the primary way to earn any reasonable income.
Safe and Eco-friendly 
The beauty industry is often called out by critics to produce and release toxic waste into the environment. 
This company is doing something different. 
Their products, manufacturing, and distribution facilities are eco-friendly. 
The manufacturing plants use 100% wind power and adopt 100% recyclable packaging.
Good reviews on the Internet
They have a lot of satisfied customers.
Issues with Modere Inc
Training & Support
Since they are still relatively new, their training and support system is still sub-standard. 
Marketers still lack training on how to leverage all the different media to run their business effectively.
Saturated & Competitive Market
The health & wellness market is already saturated and competitive. This reflects in the low-income potential, as seen in their income disclosure.
Product Reliability: There is a lack of scientific research to back up many of its health claims or distributors.
Low Income Potential
A look at the 2019 Income Disclosure reveals that more than 75% of Modere Social Marketers earned nothing, and they are declared nonactive marketers in the Income Disclosure Statement. 
Online Complaints About Modere Inc
One user of the product complained that the burn capsules made her nauseous and gave her abdominal pains. 
Some sales reps also complained that the quality of the Liquid Biocell had dropped. 
While other users expressed skepticism over the lack of FDA approval for the Biocell, however, they provides excellent support for its social marketers.
Can you make money with Modere MLM jobs? What do you think of my Modere MLM review?
Modere Inc Lawsuit
The company itself looks clean, but its parent company dug a bottomless hole. 
The former owners of Neways were sentenced for tax evasion and conspiracy to defraud the government and sentenced to 2 years of jail.
 Nerium also served them a lawsuit in 2016 for contract violation. Also, it was sued by Advovare over civil conspiracy over a failed business relationship in June 2018.
But, how are marketers still making money with Modere MLM.
Is Modere a Pyramid Scheme?
No, Modere is not a Pyramid scheme. Most MLM or network marketing are mistaken to be a pyramid scheme. 
It is because of many companies that have employed a pyramid scheme to defraud its members.
But what is a Pyramid scheme? 
A pyramid scheme is a process of making money illegally by the recruitment of members and investors.  
The initial members recruit downlines and make money from fees paid by them to join.
The downline also has to recruit people to make money from their fees to join the business. 
The recruitment is never-ending, and the income earned is wholly based on members' prices to join.
There are no products or services in a Pyramid scheme.
Therefore, Modere MLM produces and promotes personal care, nutritional supplements, and household products with its many Modere Social Marketers. 
Each of these Modere Social Marketers makes money via commission earn from sales and recruitment of downlines. 
So, Is Modere a Pyramid Scheme? No, the MLM company is okay.
Is Modere Legit or Scam? 
Modere is a legitimate company with legit products. 
Its multi-tiered compensation plan enables its representative to choose the channel of earning they want. 
The company also deals with high-quality products and does not animal test its effects. 
However, its income disclosure shows that more than half of its Social Marketers earn below $150 annually.
Modere, Inc. BBB Review Ratings is "A+"
The current Better Business Bureau rating for Modere Inc is "A+."
Modere Inc has also been accredited since 11/27/2018.
The BBB rating shows that this company has good response and turns around time, resolving customer issues and complaints. 
The Better Business Bureau accreditation is an indication that they have put resources in place to support customer service resolutions. 
BBB's requirements and payment for verification must be put in place before accreditation is given to any company. What do you think of my Modere mlm review? Is Modere MLM Legit or Scam?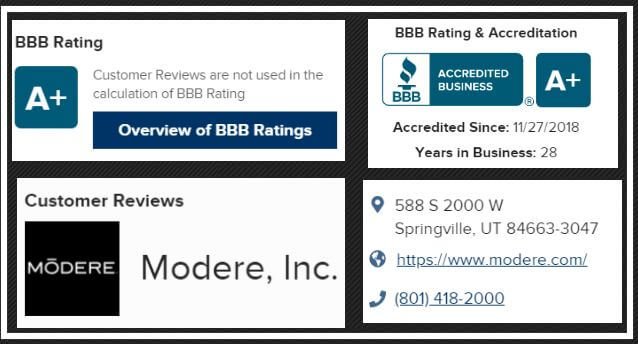 Modere MLM Frequently Asked Questions (FAQs)
***Is Modere a MLM?***
Modere (formal name Neways) is a direct sales and network marketing company that manufactures, promotes, and sells nutritional supplements, household cleaning products, and personal care products. 
The company promotes its products via its dedicated Modere social marketers and currently has a presence in over 23 countries.  
***How do I Cancel My SmartShip Order or Delete Your Account?***
You can cancel your SmartShip order by going to your profile on the website. Login with your details and access your SmartShip Profiles at the backend. 
Then uncheck all the items or remove them under SmartShip. 
You can also contact the support and customer service via 1.877. MODERE1 (663.3731) to cancel or delete your account profile.
***How to Cancel Modere Social Marketer?***
To cancel your Social Marketer membership, you can contact the customer and support with this phone number: 1.877. MODERE1 (663.3731, and this Email Address: service@modere.com.
***Does Modere have a money-back guarantee?***
Yes, you have 30 days and a 100% guarantee refund on the company products. Please know that there will be a deduction of the shipping cost.
***What did Modere use to be called?***
The company used to be called Neways International. It was established on the 9th of June 1987. The company changed its name in 1992 but still has its manufacturing plants in Salem, Utah.
***Is Selling Modere worth it?***
Modere Inc has excellent products that valuable. You will make money with the right audience.
Most significantly, if you decide to have your website and start writing articles to convert your audience organically.
However, it may not be easy to make money with Modere MLM because the Income Disclosure statement shows that the current Modere social marketers are not making money. What do you think of my modere MLM review?
***What is the startup cost for Modere?***
The minimum startup cost for Modere is $49.99. There is another starter kit that is more expensive than this.
But you are expected to choose your standing monthly order ranges from $99.99, $149.99, $199.99, $199.99. This common FAQs online and how to start making money with Modere MLM jobs
Is Modere a Good Company?
Yes, Modere Inc is a good company. The company was established on the 27th of August 1992. 
Better Business Bureau accredited Modere Inc on the 27th of November 2018 and currently with a current BBB rating of "A+. " 
What do you think of my Modere MLM review? Is Modere mlm legit or a scam? Can you make money with modere MLM jobs? Is modere a pyramid scheme?
The physical location and address are: 
588 S 2000 W Springville, UT 84663-3047. 
Phone Numbers: (801) 418-2000 and (877) 663-3731. Fax Numbers: (801) 418-2190
What do you think of my Modere MLM review? Is Modere MLM a pyramid scheme, Legit or Scam?
Is Modere MLM Worth It?
Thanks for reading my Modere MLM review. Is Modere a Pyramid Scheme? Can you make money with Modere MLM jobs?
Have you seen why Modere Social Marketer is not making money? Do you agree with me that Modere MLM is legit and not a scam?
Well, the company has some great products, and you can check them out. 
However, when it comes to the business model, you may have to look at the income potential again. 
Is Modere MLM worth the investment? The income disclosure revealed that 31.67% of its social marketers earned $0. 
Imagine earning nothing after registering for a product and buying upsells? To make with most MLM companies, you have to get to the top tier, which is not easy.
However, if you hate the idea of selling physical products and convincing people to join you in your marketing venture, you may want to check out other money-making ventures. 
My go-to online money-making venture is affiliate marketing. If you like to learn how I started making six figures from Wealthy Affiliates, click here.
Thank you for reading my Modere MLM Review. Is Modere a pyramid scheme? Do you think you can make money with Modere jobs? 
Or is Modere MLM legit or a scam? What were your observations? 
Please do share your opinion within the comment section below.
Relevant Articles
It is great to meet you finally. John is my name, and I'm the owner of Amazing Profits Online. I am a Full-Time Affiliate Marketer at Wealthy Affiliate, a community that teaches anyone to earn a full-time income online with their own passion-driven online business. No Credit Card Is Needed. It is FREE to Join. You can also Click here to get to know more about me.